Screenwriter Michael Elliot Finds Extraordinary Success With Grooming Shop For Men Hammer & Nails
The writer of the cult classic film 'Brown Sugar' is opening his 25th location in San Antonio.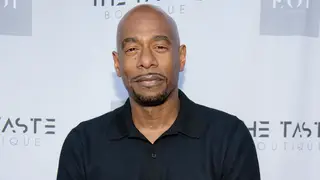 The acclaimed screenwriter of Brown Sugar, Michael Elliot, has made a remarkable career pivot. The founder of Hammer & Nails Grooming Shop for Guys was rebuffed by the sharks during an appearance on Shark Tank, but he never gave up on his dream and has since opened more than two dozen grooming salons with another 20 locations planned around the country.
The business grows through selling franchises. Elliot is the majority shareholder with a 40% ownership stake. When asked in 2017 by Forbes about why he chose his business model, he replied, "I felt like owning 40% of a $100 million company in the long run was worth it to me."
Hammer & Nails Grooming Shop for Guys wants men to reward themselves with top-tier grooming services in a relaxed environment. The shop features classic services including haircuts and pedicures. It goes up to luxury services like hand and foot care treatments, such as, French lavender and 24k gold-infused Luxe MANicures, which include a relaxing hot stone massage complimented by a cooling CBD massage to promote circulation. A hydrating sugar scrub, rich paraffin treatment, and oil-infused steamed towels soften hands to showcase excellent nail care without using polish. Gold's anti-inflammatory properties promote anti-aging and cell regeneration, delivering the crème de la crème of hand care.
On the website, they write, "When it comes to men's needs, it's time to think bigger. And bolder. And way more moisturized and exfoliated. It's time to recognize that men are bigger than biceps and abs. That men's health is about more than burpees and leg days. Because men have follicles and cuticles, too. And pores. And soles. And palms. And today's extraordinary man deserves a grooming experience that tends to the whole man."
"In a space that's far from take-a-number haircut farms and pedicure stations that reek of acrylic fumes. It's time to care about the care that goes into men's grooming. And it starts at a place where men's care is all we care about. That, and a good drink."
Elliot and Rick Famuyiwa co-wrote Brown Sugar, Famuyiwa directed. The film which starred Taye Diggs and Sanaa Lathan was released on October 11, 2002, and has become a cult classic in the hip-hop community.
Also starring Queen Latifah and Mos Def, the film gifted the culture with the all-time classic question, "When did you fall in love with hip-hop?"