Danielle Brooks Is Married—Here's What We Know About The Miami Wedding And 'Chocolate Love' Reception!
Danielle Brooks and Dennis Gelin have officially tied the knot after announcing their engagement in January 2020.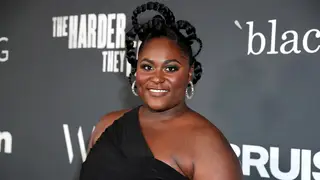 Danielle Brooks and Dennis Gelin are officially married! On Thursday (Jan. 13), the pair announced their union with a carousel of stunning wedding photos on Instagram. Keep scrolling to find out what we know about the wedding ceremony, along with the highlights of the "Chocolate Love" themed reception.
In a love story shared with Vogue, fans learned that the lovebirds tied the knot in a lovely ceremony in Miami. Held at the Alfred DuPont Building, the wedding went without a hitch, despite the couple's original concerns about the pandemic.
"Everything was going pretty well until Omicron hit the country," Danielle told the publication. "It was a bit too late in the process to turn back, so we added extra precautions with required PCR tests and rapid tests the day of the wedding. I have to say our wedding planner, D'Concierge, was out of this world amazing. He never panicked and kept us levelheaded during the ups and downs."
The wedding started just a few moments before sunset as the couple's two-year-old daughter threw the flowers down the aisle. The couple later performed a wax seal ceremony, where they sealed love letters to open on their one-year anniversary.
"There wasn't a dry eye in the building," the Orange Is the New Black revealed. "We cried the ugly cry, and laughed hard. Dennis and I did our personal handshake and jumped the broom in honor of our ancestors. It was definitely a night to remember."
For the big day, the blushing bride glowed in not one, but TWO gowns—one from fashion designer Christian Siriano and another from Alonuko, a Black designer who specializes in bespoke bridal collections.
"I always knew I was going to have two dresses," she explained to the media outlet. "We thought it would be best to do a first look reveal so that we could go ahead with bridal party pictures and not hold up our guests after the ceremony. I decided to wear Christian Siriano for the reveal. We have been friends ever since my career first began."
She continued, "It was also important to me to highlight a Black designer. I feel like when it comes to the wedding process, Black creatives aren't highlighted enough. Alonuko gave me the dress of my dreams. She flew all the way from London to make sure it arrived. I knew I wanted her one-of-a-kind, flesh-toned mesh with custom embroidery and a big huge skirt. Wearing her dress made me want to get married every day, I loved it so much."
Danielle completed her looks with eye-catching accessories, gifted to her by her stylist Kelly Augustine. Dennis and his groomsmen all looked dapper in custom suits by Garcon Couture.
Guests later enjoyed cocktails, catered food, and boxes of Godiva chocolates at the couple's "Chocolate Love" themed reception.
"The food from CJ's Masterpiece catering was superb," Danielle recalls about the event planned by Darryl Moore of D'Concierge Wedding. "Our wedding party started to dance before the first course even hit the table. The party was lit and everyone felt safe because of our COVID measures. We ate phenomenal cake and drank tequila until it literally ran out at the bar. You could feel that after two years of being in a pandemic we all yearned for moments to create memories together, and we are glad we could provide that. The room was flowing with love, joy, and togetherness."
Aww, so sweet! Join us in congratulating the couple on their union!