Drugs and Hip Hop! A Court Ruled on Joseline's Violent Brawl With a 'L&HH' Star
The Puerto Rican princess was accused of getting a castmate fired.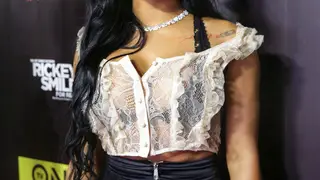 Remember when former Love & Hip Hop: Atlanta cast member Althea Heart claimed Joseline Hernandez beat her up in a crack-fueled rage during the show? Well, it seems as a Georgia judge wasn't buying her story and the case has been thrown out.
According to Bossip, DeKalb State Court Judge Alvin Wong dismissed Althea's civil assault case today with prejudice. This means she will not be able to sue the self-proclaimed Puerto Rican princess again over the same charge. Joseline's attorney, Tony Mathis, said the judge concluded that Benzino's baby mama's case didn't have a sufficient claim.
In the court documents, Althea claimed Joseline was high on crack cocaine when she attacked her on the Love & Hip Hop: Atlanta reunion show two years ago. Althea said the incident ultimately led to her being axed from the show. She also claimed she had witnesses who saw Joseline getting high before the show began taping. Mathis, however, said his cleint took a blood test, proving she was sober at the time of the incident.
Mathis continued, saying the case was supposed to go to trial earlier this week, but was thrown out after Althea submitted her evidence.
"The case was a bunch of nonsense," he said. "[Joseline] just really wanted to get it over with. She felt, very, very relieved that the case didn't go forward... The only thing Ms. Hernandez is focused on is becoming a mother."
See who's the newest addition to the Love & Hip-Hop franchise in the BET Breaks video above.