Brittney Griner Says She Wants to Continue with Mercury in 2024 'Phoenix Is Home'
"Me and my wife literally just got a place [here]," said the athlete.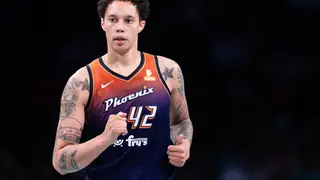 Brittney Griner has her sights fixed on Phoenix.
During an end-of-season media day on Monday (September 11), the Phoenix Mercury center revealed her hopes are set on playing for the Phoenix Suns for the remainder of her career, as reported by ESPN.
"Phoenix is home," the unrestricted free agent said. 
Another reason why she wants to remain with the team that she has played on for the last 10 years of her career is that she and her wife, Cherelle, recently became homeowners in the Arizona city.
"Me and my wife literally just got a place [here]. This is it."
The star player made her grand return to the court this season after a grueling 10-month detainment in Russia for allegedly having hash oil in her luggage. She also noted a book about her harrowing experience there is forthcoming.
She averaged 17.5 points and 6.3 rebounds this season while playing 31 out of 40 games. In addition, Griner suffered a hip injury. Despite her and the team's pitfalls, she expressed to reporters her gratitude for this season.
"It's not good being at the end of the standings," she said, "but it's better than where I was a year ago."
Griner –who is a two-time Olympian– is also making a bid to participate in the 2024 Paris Olympics for Team USA.