Kobe Bryant Family Settles Lawsuit With L.A. County For $28.5M
Vanessa Bryant has released a statement through her attorney.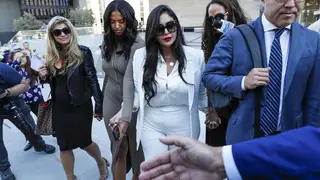 Vanessa Bryant and her family have settled with Los Angeles County after a sheriff deputy was accused of taking helicopter crash scene photos of Kobe Bryant.
According to CBS, Los Angeles County will pay $28.5 million. Vanessa Bryant will receive $15 million, which she was awarded in August, and the rest will be given to his three surviving daughters, Natalia, Bianka and Capri. Bryant's attorney said in a statement, "Today marks the successful culmination of Mrs. Bryant's courageous battle to hold accountable those who engaged in this grotesque conduct. She fought for her husband, her daughter, and all those in the community whose deceased family were treated with similar disrespect. We hope her victory at trial and this settlement will put an end to this practice."
An attorney representing L.A. County stated, "We hope Ms. Bryant and her children continue to heal from their loss."
The photos were taken at the site of the January 2020 helicopter crash that killed Kobe and their daughter Gianna, and seven other people. A deputy allegedly shared the images among employees of the L.A. County Sheriff and Fire departments, but also with worker's spouses, and in one case, with a bartender at a bar where a deputy was drinking.
The helicopter crash also claimed the lives of Payton Chester, 13, Sarah Chester, 46. Alyssa Altobelli, 14, Keri Altobelli, 46, John Altobelli, 56, Christina Mauser, 38, and pilot Ara Zobayan, 50.