Reality to Retail! Remy Ma, NeNe Leakes, And More Started Fashion Empires
See how they became modeling moguls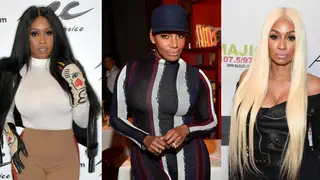 Reality TV has been a major platform for several of your favorite celeb stars in the industry.  NeNe Leakes and Draya Michele are just two of the ladies who have thrived since their presence on hit reality shows such as Real Housewives Of Atlanta and Basketball Wives. And although they may have turned on the drama for TV, they also leveraged the opportunity to become entrepreneurs. 
Whether they already had careers in fashion or simply love wearing the most dramatic attire on TV, one thing that each one of these women have (had) in common is their love for fashion. Opening up their own online and/or brick and mortar boutiques, here are seven stars who started a fashion empire and serve as models for their stores:
angel brinks - angel brinks fashions

The former Basketball Wives star created her line, Angel Brinks Fashion, in 2010. She is known for her sexy, sheer and heavily embellished designs, and has been deemed the queen of leggings and couture bodysuits. Angel's designs have been worn by celebs such as Ashanti, Lil Kim, Trina and more.

nene Leakes - swagg boutique

The Real Housewives Of Atlanta star opened Swagg Boutique in Buckhead Atlanta in 2016 in partnership with Bow Wow's mom, Teresa Caldwell. NeNe serves as a model for the boutique, showing off the boutiques daring styles in her daring curves. She's shown time and time again that the boutique offers swag for everyone!

draya Michele - mint swim

remy ma - conceited the store

The rapper and reality star of Love and Hip Hop New York has been killing the rap game and can now add successful retail boutique owner to her resume. Remy opened and co-founded Conceited The Store with her sister, RaeMonique, in Raleigh, North Carolina, just last year. Conceited offers ladies clothing from sizes 0-5X.

rasheeda frost - pressed atl

The former rapper and star of Love and Hip Hop Atlanta opened PressedATL in Atlanta. After having an online presence and trying to get her husband, Kirk, invested in her retail desires, Rasheeda was able to open up a brick-and-mortar location in 2015. PressedATL sells apparel and accessories for both men and women and is very big on self-expression. Rasheeda has attracted celeb customers such as Cardi B, Reginae Carter, Alexis Skyy and more.

jojo zarur - zarur boutique

Currently seen on Love and Hip Hop Miami, JoJo started out as a fashion stylist, styling celebs like Young Thug, Rich Homie Quan, Jim Jones and more. JoJo opened Zarur boutique in 2016 and has a store front in Miami. The store serves as a home for her styling clientele while also selling exclusive products that have been styled on her clients.

Karlie redd - merci & mansiion boutiques

Love and Hip Hop Atlanta star Karlie Redd, like co-star Rasheeda, also took a dive in the fashion world, opening up Merci boutique in 2012. The store features fashions from an array of up-and-coming designers. Merci's aesthetic is said to be a "one stop contemporary maison for no particular her." Later, Karlie opened another boutique, Mansiion, for her clientele in LA. Obviously, the business is boomin' for her.