5 Things Single Women Can Bring To The Tailgate That Will Help Change Their Relationship Status!
Single and ready to mingle this football season? Try these tips by Eddie Jackson.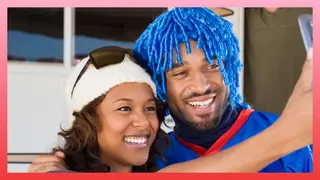 Single and ready to mingle this football season? You may want to consider tailgating!
Today marks the official kick-off of the NFL season, and we asked Food Network chef and former NFL player Eddie Jackson if it is possible to find love during the spirited football season. Simply put, YES!
"What I love most about tailgating is just the atmosphere," says Jackson, who recently announced a partnership with Whirlpool in promotion of their new Air Fry Mode on the Whirlpool Smart Range. "When I tailgate, I get excited about not knowing what I'm going to see when I get there. I also get excited about meeting new people and trying new things."
Anyone who's been to a tailgate knows that the mood is full of good vibes, great music, and the opportunity to make connections. There's also the food! We don't know about you, but that surely sounds like a way to build a great connection. 
Keeping this in mind, we had to know Jackson's thoughts about the best way to get someone's attention. Below are 5 things single women can cook and/or bring to the tailgate that can possibly change their relationship status:
Cold Beer

"The type of beer that you bring [to a tailgate] says a lot about you," the former NFL-player shares with us. "If you bring a good crafty IPA type beer, you might not be single for long."

A Nostalgic Dish

Although it may not sound sexy, Jackson insists that a "nostalgic dish" is a sure way to win over your future bae's heart. He personally suggests a good tuna salad sandwich or chicken salad sandwich, perfectly cut into squares with the crust removed.

"It doesn't sound like very good tailgate food, but someone's going to say, 'Oh my gosh, this reminds me of my childhood,'" he explains, pointing out that the goal is to evoke nostalgia. He adds, "That's screaming relationship material right there."

A Dessert

Chocolate is a must if you want to sweeten someone's heart.  "A little chocolate goes a long way—trust me," he dishes.

Game Day Swag

For those who may not know how to throw down in the kitchen, don't fret. Jackson says game day swag is a fun way to catch someone's attention.

He personally suggests wearing the team's jersey and "really show that you're a real fan. That can go a long way."

Something Smoked

"The last and final thing a single woman can bring that I think will go a long way in her relationship search is anything smoked—any type of smoked meats," Jackson shared, highlighting the bonus points you'll get if you say "'I smoked this brisket' or 'I made these ribs before I got here.'"

He happily adds, "Trust me, you're not going to be single when the game is over. By the fourth quarter, you're going to have a man."

Editor's Note: This story/interview has been edited and condensed for clarity.