DJ Khaled's New Album 'God Did' is Here Features Several Legendary Rap Artists
The 18-track compilation LP features over a dozen guest appearances.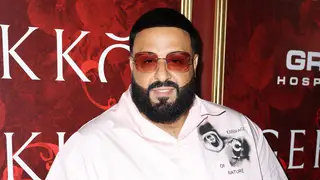 DJ Khaled's latest release, God Did, is officially here. The 18-track compilation LP is the music executive's 13th album and is the follow-up to his 2021 release, Khaled Khaled.
Like fans have seen before, the Grammy Award-winner did not hold back on the number of chart-topping artists he called upon to drop a verse. Guest appearances include the likes of Drake and Lil Baby, who are featured on the album's lead single "Staying Alive."
Khaled also remixed Kanye West's song "Use This Gospel," which initially appeared on Jesus Is King. The updated track features production from Dr. Dre and Timbaland and a verse from Eminem.
Area codes collide on tracks like "Keep Going" which features vocals from Lil Durk, 21 Savage, and Roddy Ricch. Later, artists like Travis Scott, City Girls, Kodak Black, Jadakiss, the late Juice WRLD, and much more pop up for one of the most star-studded projects of 2022.