Ahmaud Arbery's Killers Sentenced To Life In Prison
Gregory and Travis McMichael and their neighbor William 'Roddy' Bryan were sentenced for the 2020 slaying that garnered international attention.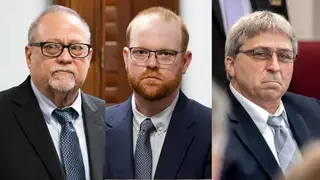 The three  men convicted on Nov. 24 of murdering Ahmaud Arbery were sentenced on Friday (Jan. 7) to life in prison, nearly two years after the 25-year-old Black man was gunned down while jogging in a Georgia neighborhood.
Travis McMichael, his father Greg McMichael and their neighbor William "Roddie" Bryan, all of whom are white, chased Arbery, a 25-year-old Black man, and cornered him with their pickup trucks on Feb. 23, 2020 in Brunswick, Ga. The pursuit ended with Travis McMichael fatally shooting an unarmed Arbery.
Superior Court Judge Timothy Walmsley sentenced both McMichaels to life in prison without the possibility of parole, but differed with Bryan, sentencing him to life with the possibility of parole, but he may not see that opportunity until he is 80 years old.
According to the Associated Press, a murder conviction in Georgia carries a mandatory life sentence or a death sentence, which the prosecutor didn't seek. What was in question was whether Walmsley would grant the men a chance to earn parole.
Still, the state's sentencing laws would have required the three defendants to serve at least 30 years behind bars before they are eligible for parole. That's tantamount to a life sentence for Greg McMichael, 66, and 52-year-old Bryan. Travis McMichael, 35, would be in his mid-60s.
The jury of 11 white people and a single Black person also convicted the trio of aggravated assault, false imprisonment and criminal attempt to commit false imprisonment. Those charges carried prison terms that ranged from five to 20 years. Walmsley had the option of sentencing them to serve those terms simultaneously with their life sentences.
According to official investigations and court documents, Arbery was jogging through the Satilla Shores neighborhood in Brunswick when the McMichaels spotted him. They began to follow him in their truck. Before long, they confronted him, and Travis McMichaels drew his rifle. The two men struggled over the weapon until three shots were fired, killing Arbery. Bryan had followed along in another vehicle recording the incident on video.
The men said they believed Arbery was the culprit in a series of burglaries in their neighborhood and said they attempted to apprehend him themselves. They argued that the shooting was self-defense. But lead prosecutor Linda Dunikoski argued that they were the ones to instigate the conflict with Arbery and initiated the violence, leading to Arbery's death.
They now face a federal trial on a hate crime charge that's scheduled to begin on Feb. 7. Federal prosecutors accuse the men of targeting Arbery because of his race.
Civil Rights attorney Benjamin Crump remarked on the outcome of the case after the sentencing was read.
"Ahmaud Arbery was stalked, cornered, and lynched in broad daylight. These brutal crimes nearly went unpunished because of the deep corruption that pervades so many of our systems," said Crump. "But because of the video, and the public cries for accountability, Ahmaud's killers have finally been held to account – first by the jury and in today's sentencing. What we've called for from the outset is that Ahmaud's killers be treated as a Black man would be – no more, no less. And today tells us, there is progress."