Jury Convicts Three Georgia Defendants In Shooting Death Of Ahmaud Arbery
Father and son Greg and Travis McMichael and their neighbor William "Roddie" Bryan face life behind bars.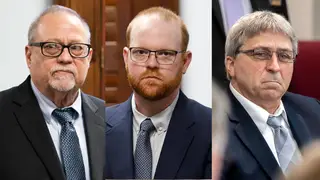 The three men charged in the death of Ahmaud Arbery were convicted Wedneday (Nov. 24) after prosecutors convinced a jury in Brunswick, Ga., that the Feb. 2020 fatal shooting of the 25-year-old Black man was not justified.
A jury of 11 white people and a single Black person deliberated for 11 hours after closing arguments concluded on Tuesday.  Prosecutors argued that defendants Greg and Travis McMichael, a father, and son, and William "Roddie" Bryan, were not acting in self-defense when they chased Arbery after they spotted him jogging through the neighborhood in the coastal Georgia town of Brunswick, about an hour north of Jacksonville, Fla. They believed Arbery was the culprit in a series of burglaries and said they attempted to apprehend him themselves.

Instead, lead prosecutor Linda Dunikoski argued that they were the ones to instigate the conflict with Arbery and initiated the violence, leading to Arbery's death. "They made the decision to attack Ahmaud Arbery in their driveways because he was a Black man running down their street," said Dunikoski in her closing arguments, according to an Associated Press report. "They shot and killed him. Not because he was a threat to them. But because he wouldn't stop and talk to them."

But defense attorneys— each defendant had their own attorney— tried to shift the blame for the shooting to Arbery himself. "You do have the right to have a firearm when you make an arrest. You do have the right to stop a person and hold them and detain them. There is risk with that. There are tragic consequences that can come from that," Travis McMichael's attorney Jason Sheffield told jurors. Travis McMichael maintained in his testimony that he was implementing a citizen's arrest, according to Georgia law.

"Turning Ahmaud Arbery into a victim after the choices that he made does not reflect the reality of what brought Ahmaud Arbery to Satilla Shores in his khaki shorts, with no socks to cover his long dirty toenails," argued Greg McMichael's attorney Laura Hogue. He died because for whatever inexplicable, illogical reason, instead of staying where he was, whatever overwhelming reason he had to avoid being captured that day and arrested by the police."
Standing with activists and supporters, Arbery's mother, Wanda Cooper-Jones, spoke to the crowds that marched outside the courthouse, giving them thanks.
"Thank each and every one of you who fought this fight with us," said Cooper-Jones. "It's been a long fight, it's been a hard fight but God is good...I never thought this day would come but God is good. Those who marched, the ones who prayed, thank you guys. And now Quez -- you know him as Ahmaud --  he can rest in peace."
Arbery's father, Marcus Arbery, who erupted in cheers in the courtroom when the verdict was read, echoed her statement. 
"God doesn't work one side he works all sides," he said. "If one side wouldn't have worked, it wouldn't have happened...We conquered that lynch mob.

"This is all our problem so lets keep fighting and make this place a better place for all human beings," he continued. "We fixin' to [sic] conquer this lynching. Today is a good day."

According to official investigations and court documents, Arbery was jogging through the Satilla Shores neighborhood in Brunswick on Feb. 23, 2020, when the McMichaels spotted him. They began to follow him in their truck. Before long, they confronted him, and Travis McMichaels drew his rifle. The two men struggled over the weapon until three shots were fired, killing Arbery. Bryan had followed along in another vehicle recording the incident on video.
Months went by without any of the men being charged, but Arbery's family continued to press the issue until media reports resulted in an investigation of the shooting. Two Georgia prosecutors recused themselves from the case because of relationships with Gregory McMichaels, who had been a law enforcement investigator.
Jury selection for their federal trial is scheduled for February.
Supporters of Arbery's family said that despite their loss, they did get some justice when the verdict was read.
"After nearly two years of pain, suffering, and wondering if Ahmaud's killers would be held to account, the Arbery family finally has some justice," said Arbery family attorney Ben Crump in a statement shortly after the verdict came down. "Nothing will bring back Ahmaud, but his family will have some peace knowing the men who killed him will remain behind bars and can never inflict their brand of evil on another innocent soul."
In addition, Margaret Huang, president and CEO of the Southern Poverty Law Center also reflected on the conviction.
"This verdict was necessary. Through this conviction, the criminal justice system has begun to address the pervasive inequities that exist when it comes to the treatment of Black and brown people," said Huang in a statement. "However, the system and those responsible for prosecuting such crimes must face the reality that, while there was video documentation of this murder, that is not the case for most crimes that occur in our country."
With the conviction, the McMichaels and Bryan are facing life in prison. Georgia Superior Court Judge Timothy Walmsley is expected to set a sentencing hearing, but it is unclear when.
Robert Rubin, attorney for Travis McMichael says that his legal team plans to appeal.