Players From the Baltimore Ravens and Jacksonville Jaguars Take A Knee During The National Anthem
The protest comes after Donald Trump called any player who takes a knee a "son of a bitch."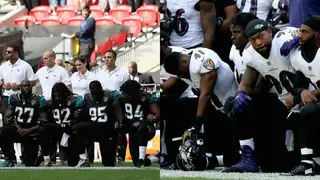 As expected, NFL players have began their retaliation against Donald Trump and his remarks about athletes who kneel during the national anthem.
The first game of the day was played in London, so due to the time change fans got to see numerous players kneel on both sidelines before the Jacksonville Jaguars took on the Baltimore Ravens.
Roughly 10 Ravens kneeled with just about as many on the Jags side, which surprisingly included owner Shad Khan, a supporter of Trump, locking arms with his players. He later released a statement.
"Our team and the National Football League reflects our nation, with diversity coming in many forms -- race, faith, our views and our goals," he said. "We have a lot of work to do, and we can do it, but the comments by the President make it harder. That's why it was important for us, and personally for me, to show the world that even if we may differ at times, we can and should be united in the effort to become better as people and a nation."
Subsequently, Ravens owner Steve Bisciotti released a statement and said his organization respects their player's stance. "We recognize our players' influence," it read. "We respect their demonstration and support them 100 percent. All voices need to be heard. That's democracy in its highest form."
Among the players kneeling for the Ravens were wide receiver Mike Wallace, linebackers C.J. Mosley, Terrell Suggs and Za'Darius Smith, defensive tackle Carl Davis and defensive backs Tony Jefferson, Lardarius Webb and Anthony Levine Sr. For the Jaguars, Calais Campbell, Jalen Ramsey and first-round draft pick Leonard Fournette all knelt.
Surprisingly, Ray Lewis also knelt. Previously, he had previously been against players protesting the national anthem and even criticized the movement. Interesting...