Meagan Good Explains Her Altered Appearance After Skin Bleaching Accusations
The 'Think Like a Man' actress is finally speaking out.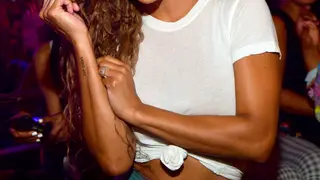 When Meagan Good attended the movie after party for Black and Blue in late 2019, fans of the actress quickly questioned how visibly lighter her skin tone was from her usually radiant melanin glow. 
Nearly seven months later, the Think Like a Man starlet is addressing the accusations that she has been bleaching her skin, after an unpleasant comment appeared on her Instagram post from Sunday (May 17). 
"Megan looked better dark skin... She not so pretty anymore she looks average... But her dark skin was above average.... Why did she Bleach," the commenter said. 
The 38-year-old actress was quick to respond and explain why her skin color has appeared lighter. 
"I didn't Queen. A (unbeknownst to me) unlicensed aesthetician gave me a product to correct a sun damage mark on my forehead that messed up skin. By the grace of God only; I'm about 80% through recovery and regaining my color daily," she said. "To be honest it was a beyond painful and traumatic experience because I would never wish that on anybody. I'd really appreaciate if you wouldn't continue to spread assumptions and rumors. Godbless you."
Letting out a deep breath and flashing a smile during the quick video, Meagan appeared to be relieved in the significant progress that her skin has made.