NLE Choppa and Marissa Da'Nae Welcome Baby Boy
"So Thankful For This Journey", said the new mom.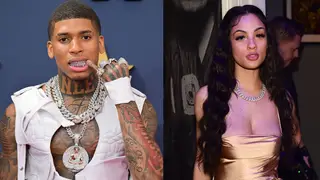 NLE Choppa and Marissa Da'Nae are the proud parents of a new baby boy.
Mom and Dad shared the exciting news of the grand arrival of Chozen Wone Da'Shun Potts on Wednesday (August 16) via Instagram.
The new mom posted a beautiful black and white photo of her cradling the newborn in her arms while sitting in a hospital bed. "So Thankful For This Journey And So Grateful For God Blessing Me With You 🙏🏼🥺." she captioned the post.
She also took to her Instagram Story to explain how the little one made grand entrance into the world. "From trying for a home birth, to having to go to the hospital, to finally my water breaking, to me having to get an emergency c-section," she wrote. "I really can't wait to tell you guys the story."
The "Champions" rapper also shared a few highlights from the delivery room with his 6.2 million followers. The father-son duo is photographed in his carousel of snaps as the baby rests on his dad's chest.
"The Best Gift God Has Given This Year, Excuse My Humor She Was In Pain So I Had To Be A Comedian LOL. ALL PRAISE TO THE MOST 🤲🏼." he said in the caption.
In the carousel, a special moment is captured of a healthcare provider coaching NLE Choppa as he cuts his baby boy's umbilical cord.
The rapper also made light of the heightened situation while Da'Nae was in the position to give birth as he quipped, "Push…fire in the hole."
He also took to his IG Story to explain the meaning of the baby's name, as reported by Vibe.
"His name is special, spiritual, and unique. Chozen- picked by God, God's favorite and also zenful energy. W(one) – he already 'won' at life and he's also the chosen 'one.' Da'shun – my middle name is La'Shun, Marissa's is Da'Nae. Potts of course my last name lol", he wrote.