Reunited: Ja Rule and Ashanti May Be Coming to Your City This Summer
The duo just announced their new intimate joint tour.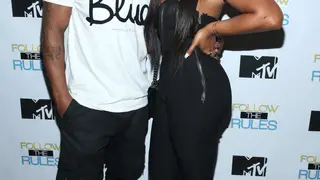 It's a Murder Inc. reunion! Sort of.
Fans of Ja Rule and Ashanti are in for a treat this summer, as the dymanic duo is confirmed to head on the road together on a new US tour.
After performing at a few sold out crowds internationally last year, the "Mesmerize" collaborators have decided to bring their efforts back to the States.
The 11 date joint tour, titled Ja Rule & Ashanti, is slated to kick off in New York City on August 25 at the PlayStation Theater and end in New Orleans, La. on September 10 at the Joy Theater.
Tickes for the tour went on sale yesterday (Friday, June 3) and range in price from $35 to $45, excluding VIP tickets.
In addition to New York City and New Orleans, they will be hitting Philadelphia, Richmond, Seattle, Los Angeles, San Francisco, San Diego, Santa Ana, Tampa and Atlanta.
Watch Ashanti and Ja Rule speak on new music in the 106 & Park Guest Rewind clip, above.