La La Anthony Reveals Some Of Her Biggest Relationship Deal-Breakers!
The actress also shared her thoughts about online dating.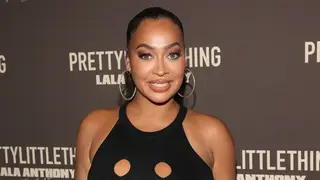 La La Anthony is opening up about her relationship deal breakers.
During a conversation with her longtime friend and The Ellen DeGeneres Show guest host Ciara, the actress revealed that she is single and looking for a partner who is an all-around good person. She explained, "I'm looking for someone that's nice, caring, considerate, spontaneous, God-fearing, and just a good person overall."
When asked if she was using any dating apps, the busy mom responded that she wasn't. "I haven't gotten there, yet. But I know dating apps are successful," Anthony shared before revealing that her father met his wife on Plenty of Fish.
"My dad actually met his wife on a dating app and they're married now and they're doing well," the owner of Inala added.
While playing a game of Relationship Deal-Breakers, Anthony revealed that splitting the bill and flirting with her friends were absolutely a no-no.
Surprisingly, the actress and beauty entrepreneur does not mind someone wearing socks during sex or chewing loudly. "It's not a deal-breaker, but I'm gonna tell you get it together," she playfully concluded.