Da Brat Shares Sweet Update About Motherhood: 'Ecstatic To Have A Boy'
The rapper and wife Jesseca Harris-Dupart welcomed a son, True Legend earlier this month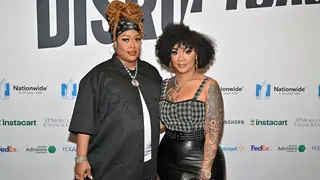 Da Brat wants her fans to know that she is doing well since giving birth to her son, True Legend, on July 2.
She and her wife Jesseca "Judy" Harris-Dupart shared an update via TikTok.
"I'm making out great," Brat says, "ecstatic to have a little boy. I'm blessed to have had a great pregnancy compared to the things that other people tell me that they went through."
She emotionally shared, "I'm just overwhelmed and blessed and I cry every day because I look at see this little boy,  be like,  I was special enough to be his mother."
She added, "So I'm doing great. No complaints no matter what."
Earlier this month,  the legendary rap star told PEOPLE, "I can't BELIEVE he came out of me!" she added, "Feels like a dream. He's PERFECT in every way." As for how mom is feeling: "Very appreciative for such a blessing of our bundle of joy," she said. "This journey has been more amazing than we could've ever imagined."
The couple, who star in WeTV's Brat Loves Judy, used IVF to conceive with an egg from Harris-Dupart and sperm from an anonymous donor. The baby comes after a heartbreaking miscarriage.
Harris-Dupart said that the two went back and forth about who would carry the bundle of joy. Harris-Dupart, who is already a mother of three, added. "We had a little tug-o-war in the beginning… but I felt like she should have the experience. She is so nurturing."