Ice Cube Refutes Claim That N.W.A. Brought Destruction To Hip-Hop
The legendary rapper said there was already a precedent of negativity in the genre.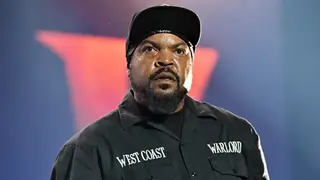 Ice Cube is denying claims that N.W.A. was solely responsible for bringing trouble to hip-hop during the mid-to-late-1980s.
On Thursday (Sept. 28), the West Coast rapper took to his X (Twitter) account to refute a fan's claim that the famed gangsta rap group brought destruction to the culture.
"B******t," he wrote. "Crack was in the neighborhoods a decade before gangsta rap. In the 70s they called it freebase. So was heroine [sic], weed, Mollys, gangbanging, drive bys, pimping and hoing, dropping out of school, young girls getting pregnant, cussing and the using the word N***a. It was all here before NWA."
The fan's claim echoed one that Special Ed made about Ice Cube and N.W.A. While on the Drink Champs podcast, Special Ed said, "N.W.A. came out, and their s**t was hardcore — and I said, 'see, they can say what they want. But the label didn't want to market me that way. And I had hard s**t."
"They didn't want that. They wanted commercial music. We all wanted to be original. Now, it's a bandwagon effect. Now, it's all about cloning. These guys […] ushered in the age of destruction."