Ice Cube Hit With Social Media Backlash Over Tucker Carlson Interview
The West Coast rapper drove the fired Fox News conservative pundit around Los Angeles during the conversation.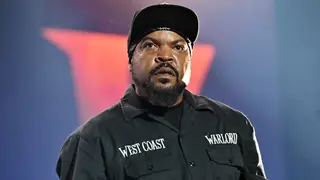 Ice Cube is once again faceing backlash after he met with another right wing pundit publicly.
Earlier this month, the N.W.A. member met with outspoken anti-vaxxer Robert F. Kennedy Jr., and now, he's decided to give Tucker Carlson more of his time. The two met for a segment on the fired Fox News host's Twitter show Tucker on Twitter where they spoke about Cube's refusal to get the COVID-19 vaccine and his lack of faith in politicians, namely Barack Obama.
"It wasn't ready," the rapper said of the COVID-19 vaccine. "It was six months, kind of rush job. And I didn't feel safe." He also added that he "told anyone not to get vaccinated, publicly," and said he was "pretty upset," when it was reported that he turned down a movie role over the situation.
When asked about the 44th President, Ice Cube said he "don't believe in politicians" because they have "hidden agendas." He specifically said that when Obama was elected he "felt proud that America took that step but claimed "not much changed for people I know, people I care about." He did note that Obama's election in 2008 was symbolic "in a lot of ways."
The whole situation had social media on edge. See some of their reaction below.