Russell Simmons Responds To Sexual Assault Claims With #NotMe Campaign
The music mogul is determined to prove his innocence.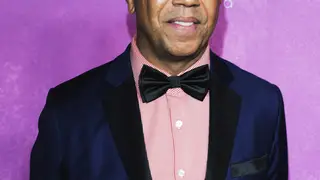 If you can recall, the allegations against Russell began late last month with model Keri Claussen Khalighi's in-depth recollection of their sexual encounter, which she described to the LA Times as fighting "wildly." Following her jarring account, screenwriter Jenny Lumet also came forward with a similar accusation against the hip-hop vet. Thereafter, the New York Times published the accounts of four more women, one of which is non industry-affiliated and claims to have met Russell upon a chance encounter at 2014's Art Basel in Miami.
The LA Times has now returned with testimonies from an additional five women, including actress and comedian Amanda Seales, Sherri Hines of old school hip-hop group Mercedes Ladies, and massage therapist Erin Beattie. In light of the damning allegations, however, Russell has adamantly declared his innocence and claimed that each of these encounters were consensual.
And, now as the controversy continues to grow, Russell is pulling out all the stops to defend himself — even if it means taking a polygraph test.
According to TMZ, Russell willingly took a polygraph test on Wednesday (Dec. 13) in the LA area. The details of the test, which were provided by his camp, include that it was administered by a national leader in the field of polygraphing and the 60-year-old was asked a series of questions about the allegations made by Khalighi. Russell's legal team is now inviting Khalighi as well as any of his accussers to also take a polygraph. 
Simmons' attorneys Michael Sterling and E. Carlos Tanner have also spoken openly with the publication about the results of the music exec's polygraph test, claiming he passed it with flying colors and plans to repeat the test for allegations made by four other women. Russell will reportedly release all the results once he's completed the tests.
This marks a very clear shift in Russell's previous responses. Initially, he apologized for being "insensitive" in some of his past relationships but on Thursday (Dec. 14) he launched a #NotMe campaign on Instagram. He insists he's not trying to diminish the #MeToo movement but must simply prove his innocence.
Watch Russell Simmons' legal team's full remarks, below.