Steph Curry And Colin Kaepernick 'Want In' On Diddy's Quest To Buy The Panthers
They'd be the NFL's first Black owners if it goes down.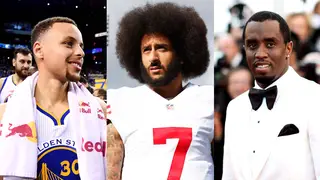 Diddy heard the report loud and clear and used the moment to try to speak his desire to own the Panthers into existence.
Just over an hour later, Steph Curry let it be known to Diddy and the world that he'd want to be part of an ownership group with the rap mogul to purchase the Panthers as well.
Diddy responded, letting Curry know that he'd welcome his involvement.
No, Curry, who counts Charlotte as his hometown and is a die-hard Panthers' fan, doesn't have the net worth comparable to Diddy's $820 million, as reported by Forbes, but he did ink a $201 million contract extension with the Golden State Warriors this past offseason. That contract, in addition to his endorsements and $44 million deal that Curry earned over his first four years in the NBA, would make the two-time NBA MVP a serious investment partner.
And if Diddy does become the first Black majority team owner in NFL history, he promises that he "will immediately address the Colin Kaepernick situation and put him in the running for next year's starting quarterback," as he vowed on his Instagram account last night.
As dope as that sounds, Kaepernick has other ideas. The woke free-agent QB isn't thinking about playing for the Panthers because he'd rather be part of the ownership group as well.
Imagine that ... Diddy, Curry and Kaepernick owning the Panthers.
And Diddy didn't take his foot off the pedal, adding the following tweets, including one he posted today about he and Jay-Z and saying "it's time for us to LEVEL UP. #BlackExcellence."
This would be the epitome of #BlackExcellence!
BET Sports News — Get the latest news and information about African-Americans in sports, including weekly recaps, celebrity news and photos of your favorite Black athletes.