Ketanji Brown Jackson's Harvard Classmates Talk About The Joy Her Supreme Court Confirmation Has Brought Them
The incoming Supreme Court justice's former classmates stood in the corner of the friend they knew since college.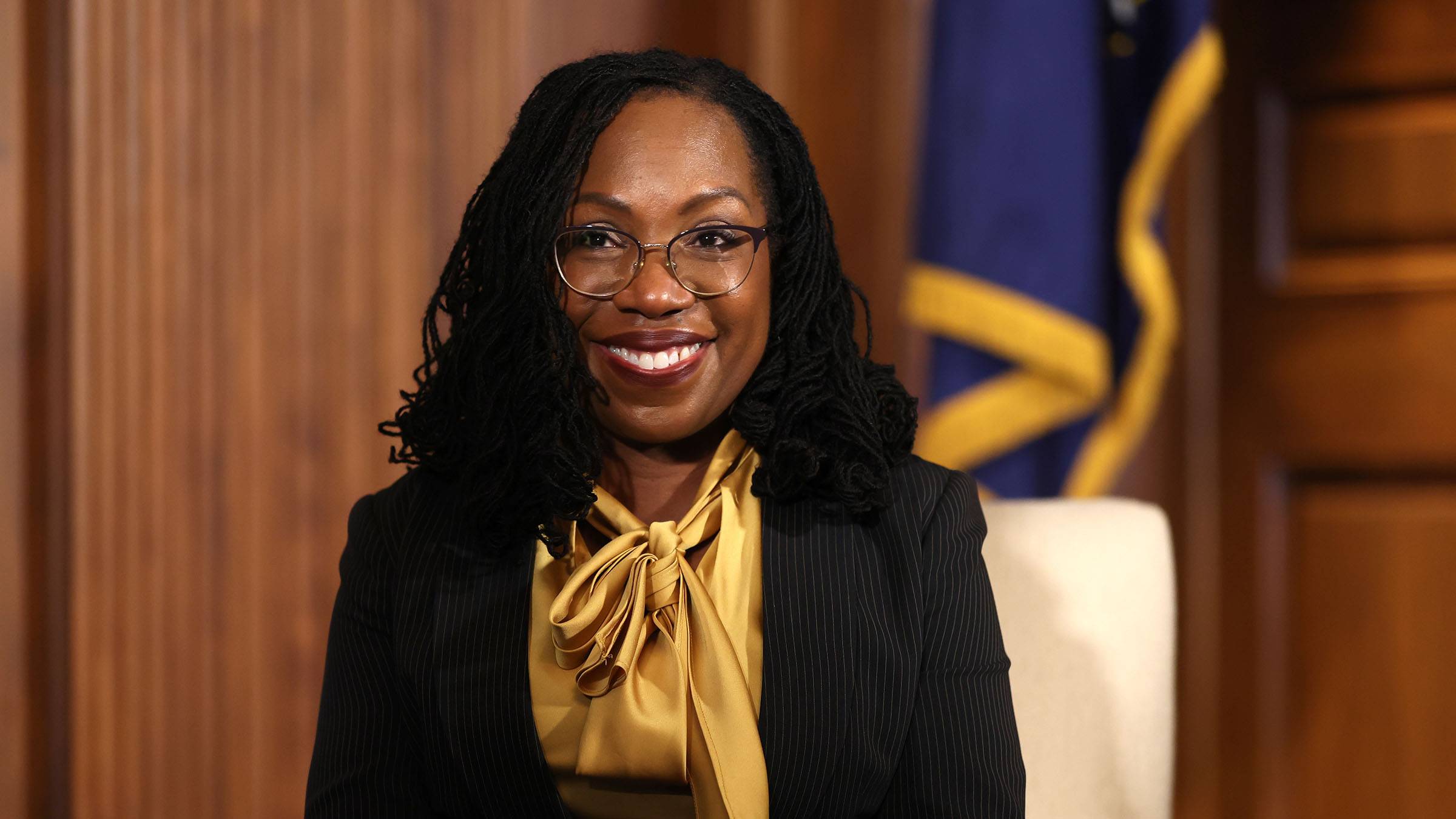 Njeri Mathis Rutledge attended the first two days of Senate Judiciary Committee hearings on Judge Ketanji Brown Jackson's nomination to the Supreme Court last month.
"I was outraged and offended by the conduct of the Republican senators. They painted a false picture and narrative of Judge Jackson who's committed to her oath, as a sitting judge, to uplift and protect the rule of law in the Constitution," Rutledge, a Harvard University Law School classmate of Jackson, told BET.com.
After nearly everyone exited the hearing room on the first day, Rutledge recalled putting her hand on the chair where Jackson took incoming fire from some committee members and prayed for her.
"I prayed that she would feel the love and the power of every single person rooting for her because I knew they were coming for her. But I also knew as a person of faith that no weapon formed against her would prosper," she said.
Rutledge is one of many former classmates who stood in Jackson's corner and cheered her on during the arduous–sometimes painful and insulting–confirmation process.
On Thursday (April 7), Jackson, 51, made history as the first Black woman confirmed by the Senate to serve as an associate justice on the high court. Only three Republicans joined Democrats in the 53-47 vote to replace retiring Justice Stephen Breyer with Jackson.
Political partisanship was on full display during the committee hearing in which Jackson experienced an "aggressively hostile interrogation…featuring political dog-whistling" from Republicans, as The New York Times described it.
It included Sen. Marsha Blackburn of Tennessee insinuating that Jackson is a "pedophile enabler." South Carolina Sen. Lindsey Graham, previously a supporter who voted in 2021 to elevate Jackson to the U.S. Court of Appeals, questioned whether she could "fairly judge a Catholic." And Sen. Ted Cruz of Texas asked Jackson whether she agrees with a book "being taught with kids that babies are racist."
At the start of the confirmation hearings, Black women from across the country gathered on the steps of the Supreme Court to show their support for Jackson. Inside the hearing room, Democrats on the committee defended Jackson. New Jersey Democrat Sen. Corey Booker made it clear at the hearing that Jackson is highly qualified and more than earned a potential spot on the high court.
Meanwhile, a circle of former classmates also had Jackson's back. Christiane Pendarvis, who first met Jackson when they were first-year students at Harvard, said classmates were communicating on multiple threads about the hearings and how professional and dignified Jackson managed the onslaught.
"I was elated. That's who Ketanji has always been. That's how we've known her," Pendarvis told BET.com. "She's always just been incredibly stellar, incredibly level-headed, incredibly thorough, and someone who is not going to be easily pushed."
Janine Gilbert, who attended Harvard undergraduate and law school with Jackson, told BET.com that she sent a text to Jackson "just giving her support, reminding her that she has so many people who love and support her. And reminding her that she's got to remember who she is no matter what she's facing with these folks."
Jackson's former classmates felt a deep sense of pride and rage during the hearings.
"I was angry that this political theater was taking away from the huge import of the moment and from the country seeing in Ketanji what I have seen in her for three decades," Jeff Livingston told BET.com.
Livingston first met Jackson and became friends when they were high school rivals at debates and public speaking competitions. They later attended Harvard together as undergraduates.
Each former classmate said the woman they knew back in school was a joy to be around. She always had a warm smile, was caring and had a glass-half-full perspective on life.
"Ketanji was always very outgoing, social, but not the social butterfly center of attention, but genuinely interested in people," Pendarvis said
Jackson was also one of the most academically gifted students at a university filled with high achievers.
"We were all focused on school. We were all intelligent, hard-working people. But she was on a totally different level," Rutledge recalled.
Jackson graduated magna cum laude from Harvard College and earned her law degree with cum laude honors in 1996 from the university, where she was supervising editor of the Harvard Law Review.
Livingston saw signs of Jackson's future back in high school. "She was a legendary speech and debate champion in the late 1980s," recalled Livingston, who attended high school in South Carolina but competed against Jackson, a Miami resident, at regional and national tournaments.
"I've been telling friends that the person they saw during the confirmation hearings is who she was at 17. You could see the way she pauses, collects her thoughts and then deliver beautifully. You saw that at 17."
At the same time, she balanced her intense studying habits. "Ketanji wasn't the person who was always in the library and exclusively focused on academics. She had diverse interests," Pendarvis said, recalling Jackson's performance in a jazz cabaret show at Harvard and other shows in college.
They each hailed Jackson's confirmation as a milestone in African American history.
"We're going to have a justice of the Supreme Court whose name is Ketanji Onyika Brown Jackson – the Blackest name that anyone can think of," Livingston joked, brimming with pride.
Rutledge explained, "The first word is joy. What a joyful, joyful moment to have, after the 233 years of the Supreme Court being in existence, to finally have a Black woman on the Supreme Court. It means another role model for Black people. She is also a wonderful inspiration for working mothers, a wonderful inspiration for Black girls."
"Black women have been overlooked so much in this world and in America. Ketanji's appointment means that we really can make it," Gilbert added.
Jackson is expected to be sworn into office over the summer and officially take her place on the high court in October.
In this historic moment, Gilbert sends this message to Jackson: "Remember who you are. Trust yourself, trust your judgment, you are here in this place and at this time for a reason. You are a harbinger of hope for better days to come. You will represent voices and perspectives that are not often heard. We are so grateful you are there. We believe in you, we appreciate you, we are so proud of you, and we got your back!"
"I have watched your laser focus and your hard work and know you were destined for this moment," Rutledge says to Jackson. "It is hard to be the first. The attacks will not stop. Know that you have the love, support and prayers of your friends, your classmates and the ancestors."
Pendarvis agreed with them: "Step into this moment as your full, authentic self. Approach this position as you have all your other endeavors–with confidence, curiosity, integrity, intellectualism and determination. We are beyond proud of you and here for you."