Ketanji Brown Jackson Makes History As First Black Woman Confirmed As U.S. Supreme Court Justice
Rising from a SCOTUS clerkship to the high court bench itself, she steps into the next phase of a venerable career journey.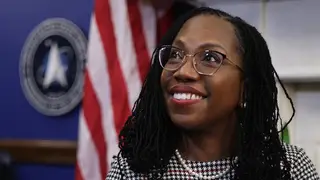 Ketanji Brown Jackson will officially become the first Black woman to sit on the U.S. Supreme Court and the third African American to take a position as an associate justice there. Nominated by President Joe Biden from a shortlist of highly qualified candidates, Jackson now rises from her role as a federal appeals judge to a place on the bench replacing her mentor, Justice Stephen Breyer.

Senators confirmed her on Thursday (April 7) with a vote of 53-47.

Jackson, 51, a Washington D.C. native who grew up in Miami, started out as president of her class at Miami Palmetto High School, and had watched her father study law in the family home. She went on to graduate magna cum laude from Harvard University and earned her law degree from Harvard Law School, where she was editor of the Harvard Law Review.

She began her legal career journey as a Supreme Court clerk for Breyer, who she has credited with guiding her for decades in her various positions. From 2005 to 2007, she worked in the D.C. Office of the Federal Public Defender, where she handled major cases including serving as a defense attorney for terror suspects held at Guantanamo Bay. In 2009, President Barack Obama nominated her to become vice chair of the U.S. Sentencing Commission, where she impacted sentencing guidelines for federal judges.

In 2012, Obama then nominated her for the U.S. District Court for the District of Columbia in 2012, where she was supported and confirmed by a bipartisan group of senators the next year. In 2021, Jackson was one of Biden's first judicial nominees as president and she took her seat, again with bipartisan support on the U.S. Court of Appeals for the D.C. Circuit.

Earlier this year, Breyer announced he would be retiring from the court when its summer recess begins, likely in late June or early July. The 83-year left an opening for Biden's first Supreme Court nomination. It was quickly pointed out that during his 2020 presidential campaign, Biden promised that his first nomination to the court would be a Black woman.

"I'm looking forward to making sure there's a Black woman on the Supreme Court to make sure we in fact get everyone represented," Biden said while campaigning in South Carolina just before its Democratic primary. The pledge moved S.C. Rep. James Clyburn to endorse his campaign for the White House, eventually resulting in Biden winning the Democratic nomination and finally defeating then President Donald Trump.

Biden had considered other jurists including South Carolina U.S. District Court judge J. Michelle Childs; California Supreme Court associate Leondra Kruger; and Georgia US. District Court judge Leslie Abrams Gardner. Then, at an official nomination announcement, Biden proclaimed he picked Jackson because she "will bring extraordinary qualifications, deep experience and intellect, and a rigorous judicial record to the Court."
An Arduous Confirmation Process

Jackson underwent a controversial Senate hearing process in which she was repeatedly grilled by Republican lawmakers on the Judiciary Committee including Texas Sen. Ted Cruz (a one time Harvard Law classmate) and Missouri Sen. Josh Hawley about sentences she issued to people convicted on child pornography charges. Both of them led a chorus of right-wing arguments saying that Jackson was too light on the sentences. But her response in testimony was that she was bound by restrictions set by sentencing guidelines.

"I just wonder if you regret it or if you stand by it," Hawley asked.
"What I regret," she replied, "is that in a hearing about my qualifications to be a justice on the Supreme Court, we've spent a lot of time focusing on this small subset of my sentences." She repeatedly explained that she had responded to his questions, seemingly frustrated with his persistence.
"I've answered this question," she said. "I'll stand by my answer."

The line of questioning continued over much of a four-day period in March, through what many criticized was grueling and unfair to her, targeting her specifically because of her race and gender, although rigorous hearings are common in the confirmation of Supreme Court justices.

In another episode, South Carolina Sen. Lindsey Graham, who had supported Jackson's appointment as a federal appeals judge, joined other Republicans in chiding her and even interrupting her answers – sometimes petulantly – on the child pornography sentencing.

But Senate Judiciary Committee Chair Dick Durban broke up the verbal fracas, further explaining Jackson's position to Graham.

"Part of our job we've failed in responding to the changing circumstances that face this crime," Durban said. "What has it been? 15 or 16 years? She is currently not an outlier in sentencing. 70 percent of the federal judges face the same dilemma and wonder why Congress has failed to act and when it will act."

This apparently caused Graham to walk out of the hearing.

Although most senate Republicans unsurprisingly voted against her, three pledged to vote in her favor: Maine Sen. Susan Collins; Utah Sen. Mitt Romney; and Alaska Sen. Lisa Murkowski.

"After reviewing Judge Jackson's record and testimony, I have concluded that she is a well-qualified jurist and a person of honor," Romney said in a statement. "While I do not expect to agree with every decision she may make on the Court, I believe that she more than meets the standard of excellence and integrity."

With the three Republican votes and all Democrats pledging to vote in her favor, a tie-breaking vote from Vice President Kamala Harris in the 50-50 senate will not even be needed.

During the hearing, New Jersey Sen. Cory Booker, espoused immense support for Jackson and directed an emotional speech that even made the stalwart 51-year old jurist tear up as she listened.

"It's hard for me not to look at you and not see my mom, not to see my cousins, one of them who had to come here and sit behind you," said Booker. "She had to have your back. I see my ancestors and yours. Nobody's going to steal the joy of that woman in the street, or the calls that I'm getting, or the texts. Nobody's going to steal that joy. You have earned this spot. You are worthy. You are a great American."