EXCLUSIVE: How Hazel E's Disgusting Rant Brought Light To The 'Secret Society'
A transgender woman speaks out.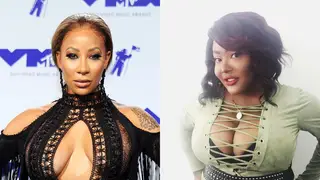 Hazel E and Rose Burgundy definitely struck a chord with folks, proving that it may be 2017 but racism, bigotry and homophobia are still very real issues. Although the TV personality has issued an apology for her rant, her words were proof that on the surface society seems to tolerate the differences of others, but what's lurking beneath the ground layers can reveal a hateful heart.
When best-selling author Miasha released her book, Secret Society, in 2006 (which will be soon released in movie form), she was one of few to tap into the taboo world of transgender women, a lifestyle that is lived but rarely ever discussed openly. The book takes us on a wild and deadly adventure with two trans women, Tina and Celess, who got away with tricking straight men into thinking they were women until their secret was revealed. "The games they play, their motives, tactics, lifestyle, men of choice, hustle, and end goal are all what I consider to be a secret society," Miasha enlightens BET.com.
"Things have definitely changed in 2017. Although we can see differences, things have also stayed the same," says the well-known author. "We, as a society, are much more tolerant and accepting towards transgender individuals, but with the coming out of more trans people, they are met with disdain and insensitivity towards them. It's like a double-edged sword."
For Miasha, the very subject of transgender was something the Black community, particularly the Black urban community, seemed to completely ignore as if it didn't even exist. But while it's often kept secret, it's also a lifestyle that many live each and every day.
Meet TS Madison Hinton. This beautiful 40-year-old full-figured pre-op transsexual (still has male genitalia) phenom has been transitioning since the age of 17. It was not an easy road for TS Madison, who was introduced to her first hormone pill, Premarin, at the same tender age. "Transition for me has always begun in the mind. I started thinking about transitioning from the very beginning," she shares. "Let's be totally frank, when I first started I was an ugly duckling, but I knew I was going to turn out to be a beautiful swan, I had no doubt about it [laughs]," she tells BET.com.
If you are not familiar with TS Madison, then check out her YouTube, because it's lit. The "Is this b*tch on? Is this thing recording" personality, is known for her hilarious videos featuring roaster and rapper Khia, in which they place celebrities on "trial" for their misdeeds. There is nothing that is off limits to this media personality including her past as a call girl and porn star. Her "keeping-it-real" attitude is what has garnished her with close to 200K followers on Instagram, and caught the attention of the Queen of Drag, RuPaul.
She was not always so carefree about her life. "Initially, I did not have the support of my family, especially coming from a biblical background," TS Madison explains. "They were embarrassed, hurt, but more so disappointed in me because I am the eldest of the children."
Miasha expands on this point. "In our community, this is not something that people talk about, especially family. And no one seemed to even know it really existed to the extent that I wrote about in Secret Society."
There are not many people that hold a "key" to the secret society. There are special cardholders that receive a guest pass now and again, and Miasha was one of those people. "Once I decided to write the book, I went to a particular neighborhood in my hometown, Philly, where I had heard trans women hang out. I went up to one girl and told her what I was doing and asked if I could interview her. She was 100 percent with it and gave me a lot of the details that makes Secret Society so authentic."
Miasha was lucky enough to find a trans woman who was outspoken and very proud of who she was and what she was doing. After the book was released, Miasha noticed that more trans women wanted to share their stories, because they felt that she was someone they could trust. "When talking to these trans women, I was entrusted with very shocking details," Miasha tells us. "The most shocking thing was how some trans women are able to hide their true identities from partners who they were in long-term relationships with. I can't imagine the burden of keeping such a secret from someone so close. I was also shocked at some of the things trans women had to go through just to live as a person they felt they were meant to be. A lot of trans women are forced into prostitution just to survive because of job discrimination and family disownment."
TS Madison agrees with Miasha when it comes to why most trans women hide their identities, but this was not the case for her. She wanted men that she engaged with to know from the start that she was a different kind of woman. "Here's the thing, people like to use what you're hiding as a weapon against you, and I know where I am going in life as an entertainer and a huge superstar. I didn't need anyone else telling my story, because they don't really know it," TS Madison declares. "Only I can tell my story: the good, the bad, and the ugly, and nobody will have more power over me than ME."
In telling her story, TS Madison wanted people to know that there are many misconceptions when it comes to trans women. "The most misunderstood thing about trans women is that we are out to deceive men. People think that all trans women are not disclosing their 'T' to men, when in fact, the vast majority of men seek us out because we are trans women."
"I think people also misunderstand who trans women are and why they live how they live. I think a lot of people think they're gay men who like to dress in women's clothing. They don't realize that these men were most likely young boys who strongly identified with being female and thus go through life displaying feminine qualities and having a deep yearning to live and be viewed as a female. Not everyone is a Celess and Tina," Miasha adds.
This dialogue led back to an interview back in July with The Breakfast Club and guest LGBTQ activist, author and trans woman Janet Mock, who gave riveting details about her life as a trans woman. "I feel Janet Mock shed a tremendous amount of light on all the topics that affect our community," says TS Madison. "I don't feel she missed anything on the discussion. She educated people very well."
"I felt validated by Janet's Breakfast Club interview, because her experiences were very similar to the characters I wrote about and solidified the feelings, lifestyle, desires and surface issues that were portrayed in the book. I also thought that how she articulated being a trans woman is going to shift so many people's ideas about trans people," Miasha shares. "I think Janet Mock may give trans women more courage to come out and be open, but, depending on the social circle of the trans woman, I think it still may be difficult for some."
However, Miasha did feel that Janet should have addressed the decision and repercussions of coming out to a straight man after she has already had sex with them. "In her experience the man continued to date her, and that's perfectly fine, I do understand that she was speaking from her experience, so I do not hold that against her, but I think she should have mentioned why it is important to come out sooner in order for the man to have a choice rather than put him in a position of his choice being made for him," Miasha states firmly. "It can be a dangerous thing for trans women. I don't think that the idea of a man having sex with a trans woman without knowing and then finding out later should be overlooked. It can do damage to his psyche, which could be destructive. It's a very real emotion that can lead to a very real consequence for all parties involved."
According to the Human Rights Campaign website, in 2017, more than 20 reported transgenders were fatally shot or killed by other violent means. This is something that has to change. "Change must first come from society. We have to be accepting of trans people starting within our families," Miasha advises. "If families are more accepting then [trans people] won't be forced to be in the streets and work in seedy industries that further perpetuate the negative perceptions of trans people. Once the world embraces trans people fully, trans people will not have to hide, and those who love trans people will not have to keep it a secret. And getting to know trans people will also help, of course, as with any group of people who tend to be misrepresented by perceptions."
"I agree," chimes in TS Madison. "People must start understanding that your brother, your son, your uncle, or maybe even your significant other can be attracted to a transgender woman. I've learned that every story I tell has a different effect on each person. When I am awarded an opportunity to meet people who have an interest in my story, each person tells me that some part of my story resonated with them. I make some laugh and make some cry, but all in all, they are touched, and dialogue like this is what will create the change that is needed. It is a beautiful necessity."
Let's continue an open and respectful dialogue around the transgender community, because maybe then society will no longer label human beings taboo for simply choosing to live differently.