WATCH: Dave Chappelle Hilariously Shuts Down Morgan Freeman In Trailer For New Comedy Special 'The Closer'
This is his sixth comedy special with Netflix.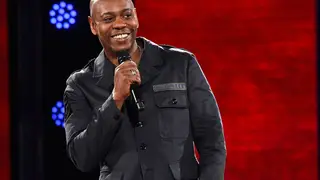 Dave Chappelle is back with his sixth comedy special for Netflix. The Closer, which dropped on the streaming service at midnight. Details of the show were introduced by a trailer featuring a surprising cameo of Chappelle and none other than the legendary Morgan Freeman, whose voice just makes everything sound better.
Chappelle is seen driving down a country road with Freeman narrating, "This is Dave. He tells jokes for a living. Driving down these country roads is a lot like a meditation…he is deep in thought, back in the trance, five specials in this many years, how do you close a body of work that profound?"
Chappelle eventually shouts, "Will you shut the f**k up, Morgan Freeman?!"
Watch the hilarity below:
The 48-year-old appears ready to take a break from the stage. In The Closer, which is performed in Detroit, he says, "This is gonna be my last special for a minute."
The other specials include The Age Of Spin, Deep in The Heart Of Texas, Equanimity, The Bird Revelation and Sticks & Stones. All six are directed by Emmy winner director Stan Lathan.