Say What? Chris Brown Claps Back at Piers Morgan Over Ali Tweet
John Legend also chin-checked the controversial host.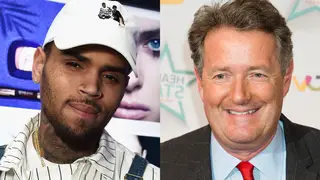 Since Muhammad Ali passed away on Friday, many celebrities have taken to social media to celebrate the all-time great boxing champ for his deeds both inside and outside of the ring. Piers Morgan, however, decided that this was a good time to share his theory that Ali said far more racist comments than presumptive Republican presidential nominee, Donald Trump.
Chris Brown, known for not being afraid to speak his mind, clapped back with a vicious rebuttal. And he wasn't the only musician who critiqued Morgan for his negative words on the late boxer.
Morgan tweeted out his thoughts about Ali just two days after his passing, and Chris Brown was having none of it. 
Breezy took Morgan to task in a expletive laden comment on Instagram: "Irrelevant BROADCASTING!!!!! IS ALI RUNNING FOR PRESIDENT????? I CANT WAIT FOR PEOPLE TO WAKE THE F*** UP.. What do I know??? I'm just a "BAD BOY R&B" singer. WE HAVE NO LEADERS OR EVEN ANYONE WITH A BACKBONE TO HELP! ITS ABOUT A HANDFUL OF BLACKS THEY USE AS PUPPETS TODAY. YALL KNOW WHO THEY ARE! SPEAK LOGICALLY AND FROM THE HEART AS WELL OR JUST SHUT THE F*** UP!!!!" the singer wrote.
Morgan followed up with another controversial thought, and this tim John Legend had some sharp words in response:
Morgan has been criticized in the past for having unpopular opinions just to get his name in the news, and this seems like a clear example of just that. Thankfully, the two singers were not afraid to call him out on it.