Op/Ed: Takeoff's Death Issues A Time To Mourn But Also A Time For Us To Do Better
TV host and producer Van Lathan asks the tough questions to determine why these young, Black men's lives are so fragile.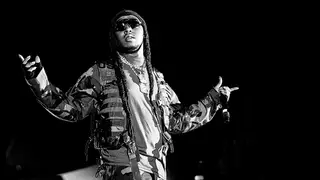 The fatal shooting death of Takeoff, one-third of Migos on November 1, opened up an all too familiar wave of emotions felt amongst hip-hop fans. Too many of us posted messages of "SMH," "RIP" or "not again" on our social media feeds expressing disbelief that yet another, young Black male rapper's life had been cut short because of gun violence.
At just 28-years old, Takeoff was shot and killed while attending a private party at 810 Billiards & Bowling in Houston after an argument ended in bullets, screams and people fleeing the scene. Police have said they do not believe he was involved. As he is laid to rest on Friday (Nov. 11) at the State Farm arena in Atlanta, we have to ask how did we end up here again where one of rap music's most promising voices has been forever silenced?
T.V. personality and author, Van Lathan, was one of those people who immediately took to Twitter after hearing the news. He posted, "Just stacking up bodies of young, rich Black men. I wish people cared."
Now, the host of WEtv's new series, "Hip Hop Homicides," Lathan examines some of hip hop's most infamous murders including that of Pop Smoke and XXXTentacion. The intention is to help fans, friends, and family find closure, but the minute we bury one, another name seems to hit the headlines.
Lathan explains his reaction to Takeoff's death and provides insight about why he believes this phenomenon keeps happening, but more importantly,  what we can all do as a community to put an end to it.
When I was a kid, I remember I always had problems with organizing my room. I just couldn't keep my room clean. It was just hard picking up stuff and putting it back. My father asked me one day, 'Do you love your mom?' I said, 'Yea.' He was like, 'Well, if you love your mother, you'd keep your room clean. You know your mother likes to have things put in the right places.' I was like what does that have to do with anything? He said, 'If you love your mother, clean up your mess up because love is an action.' I'm wondering now if we love ourselves enough to clean this mess up.
We are looking at a very  particular phenomenon here and that is not being able to evolve past some of the worst social ills to impact our community. Most people used to believe that the American dream was just about having enough money to feel safe. I don't think it's about that at all. It's really about different types of safety –economic safety, physical safety, having the house with the white picket fence in a good neighborhood. When we chase the American dream it's about getting away from some of the demons and social ills that have been chasing us. Now, if Takeoff didn't have the American dream, then who does?
We're in a weird culture. Working at TMZ, there was a moment that I will never forget when Prince died. It was a hard story to do because we knew that he was gone, but we couldn't get a confirmation. Once we did and hit publish, the office erupted in cheers; clearly not because of his death, but because we were the first to get the story out about his death. I looked around and it was the first time I realized that death is something that's commodified. To some people a death is a win. I feel like we're living in a R.I.P. culture where we normalize when someone passes away from something that should not have happened. Everyone says how sorry they are and then emotes together in ways that only draws attention to themselves.
I tweeted about stacking up bodies of young, rich Black men and wishing that people cared. I'm sure people care, whether they were moved or saddened by Takeoff's death, but when I say care, I mean the actionable steps of caring. Are we diagnosing the ills that are making this thing run on a loop?
We have to have the conversation about the systemic dysfunction in the music industry. We have to have a conversation about the politicians who we have anointed as leaders and whether or not we are getting a return on that investment. But the only thing we want to say most times is R.I.P.
Takeoff's death and the death of these other gentlemen are living proof to the disposability of Black bodies. If a white woman gets lost in the woods, everybody holds their breath. We have to figure out who and what is to blame for this. Sure there is an inability to put some of the street life behind you, but why?
Not going to hood means you can't go and can't is something that emasculates these guys. But guess what, there are ways of being in your hood without being "in" your hood. If you set up a community center, you're in your hood. If you donate jerseys for the kids' basketball teams, you're in your hood. If you raise awareness politically and socially about the things that you went through, you're in your hood. There are still rappers who are actively involved in this street life like they want to be the shot callers in criminal shit. Like who do you owe? Your children, your mom, your girl, your brothers or do you owe some bullshit ethics and rules that haven't worked for anyone? Whatever it is, we have to root it out.
In "Hip Hop Homicides," we did eight different stories, examining different levels of dysfunction, but the one thing they all had in common was that these deaths were all preventable. None of these deaths had to happen. I mean the method in which it seems Takeoff passed away from what we know now is that he wasn't even involved in the argument, which means there is a cloud hanging over that event in which anyone could have gotten it. So, I have to ask, are we actively participating in a death culture?
I understand why it's normal to us, but how much have we normalized it and is it time to take a more critical look at that because we can't keep living like this.
Let me be clear. The ex-TMZ employee is not telling anybody how to live. I'm just asking the question…does this feel good? Anybody who says we can't do anything about this and it's just the way things are, I disagree. We need to build political and economic power to force parts of society that have exploited us to make certain things right. If we're not going to agree on anything else, then we have to agree on how to protect each other and keep each other safe.
We have one of the strongest, most beautiful, most capable cultures in the history of humanity. Derived from a people so diverse that white supremacy couldn't kill them. You can't tell me we can't get this done, but again I ask, do we care? Do we care enough to be honest about what's not working?
---
Van Lathan hosts "Hip Hop Homicides," available on AMC streaming service ALLBLK, every Monday at 9 PM ET/PT.