TakeOff's Funeral To Be Held At Atlanta's State Farm Arena
The service will take place on Friday (Nov. 11).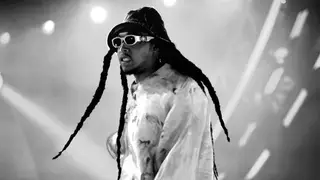 The funeral for Migos rapper TakeOff will take place at the State Farm Arena in Atlanta on Friday (Nov. 11).
According to WSB-TV, the service will be officiated by Pastor Jesse Curney III of New Mercies Christian Church in Lilburn. TakeOff and his family were attendees of the church.
The 28-year-old, born Kirsnik Khari Ball, died after he was shot and killed in the crossfire at a private event at 810 Billiards & Bowling in Houston on Nov.1. An autopsy report revealed that the artist died from multiple gunshot wounds to the head and torso.
Quavo's assistant Joshua "Wash" Washington was also shot during the altercation and was rushed from the scene to the hospital with non-life-threatening injuries.
TakeOff joined the Atlanta-bred group Migos in 2008 along with Quavo, who is TakeOff's uncle, and Offset, who is his cousin. The group released their first mixtape, Juug Season, in 2011, before breaking out commercially in 2013 with their hit single "Versace," which was notable for popularizing the group's triplet flow - Migos' signature rapid-fire cadence -  and it was eventually remixed by Drake. Other hits include "Bad and Boujee," which reached No. 1 in the US, and "Walk It Talk It" with Drake.
The group recently broke up and TakeOff and Quavo released a project under the moniker "Unc and Phew," while Offset went off to work on his second solo album. TakeOff and Quavo just released a video for their single "Messy," on October 31, the day before TakeOff's death,  from their collaborative LP Only Built For Infinity Links out now via Quality Control Music Group/Motown Records.
The shooting is still under investigation by the Houston Police Department which is calling on the public to help identify the shooter.