Reports Say Ben Simmons Thinks Tinashe Is Stalking Him, And Now He Wants Extra Security
Sources close to the NBA star say the singer has a habit of popping up when he's out with Kendall Jenner.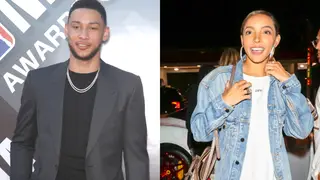 The drama between Ben Simmons and Tinashe has reached a new level of soap-opera-esque drama.
According to sources close to Simmons, he is considering upping his security detail because of the not-so-coincidental run-ins he and Kendall Jenner have had with Tinashe, reported TMZ.
Since Simmons and Jenner have become a new couple, they have oddly been encountering Tinashe at the same nightclubs.
The rookie of the year thinks Tinashe has been "tailing him" and showing up at the same parties that he frequents with Jenner on purpose. According to the TMZ, he is considering hiring more security detail to keep Tinashe away from his new girlfriend. Last week, Tinashe was seen exiting the club Delilah after Jenner and Simmons were spotted at the same venue. When she left, Tinashe alleged that Simmons was texting her while they were in the club.
Sources told TMZ that the NBA superstar is convinced that Tinashe cannot handle their breakup and is acting out in an effort to keep an eye on him.