Did Tristan 'Third Trimester' Thompson Hit Kim Kardashian With The Unfollow?
And when the Cavs forward was at the foul line, Raptors fans chanted Khloe.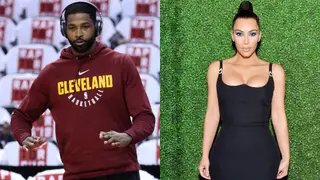 Kim Kardashian may have one less person checking out her selfies on Instagram.
After Kim spilled the tea about Tristan Thompson's cheating habit on Ellen, the Cavaliers' player reportedly unfollowed the reality star.
"I don't even know how to describe it besides it's just so f–ked up," Kim told Ellen when asked about the scandal. "We really were rooting for Khloé and we still are, she's so strong and she's doing the best that she can."
Following the interview, both Kim and Tristan unfollowed each other; however, the 27-year-old athlete still follows the rest of the Kardashian family, reported Page Six.
Tristan also took some heat while shooting free throws in a game against the Toronto Raptors

Although Tristan is a Toronto native, his Canadian roots couldn't stop the shady chant from breaking out in the fourth quarter of the playoff game. 

The chants from Raptors fans quickly became a hilarious topic on Twitter

Some believe the way Tristan was treated in the stadium shows that he is no longer Canada's darling