Laurence Fishburne Confirmed to Star in Roots Remake
Black-ish star will play the role of Alex Haley, originally portrayed by James Earl Jones.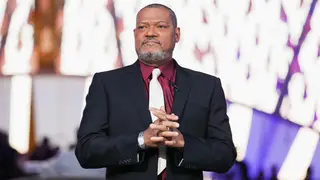 Laurence Fishburne is making his return to the silver screen in a huge way. The Black-ish star is set to star as Alex Haley, the author of the novel Roots: The Saga of an American Family, in a remake of the 1977 miniseries Roots.
According to the Hollywood Reporter, Fishburne has some pretty big shoes to fill as the role of Haley was originally portrayed by James Earl Jones in the original. A&E Networks, which is behind the project, made the official announcement on Wednesday, July 1.
The remake will be simulcast on History, A&E and Lifetime and will include material from Haley's novel with "carefully researched new scholarship of the time."
A team of experienced producers is behind the highly anticipated project with Will Packer (Ride Along, Straight Outta Compton, Think Like a Man) set to executive produce along with original Roots star LeVar Burton. Mark Wolper will also serve as executive producer on the project with Marc Toberoff and the Wolper Organization.
Look out for the Roots remake in 2016.
Watch the Matrix actor talk about getting constantly mistaken for Samuel L. Jackson on The Queen Latifah Show, below:
(Photo: Teresa Kroeger/WireImage)