Outrage After Video Surfaces of a Cop Threatening to Arrest a Black Student Over Mowing Lawns
Graphic images show the painful marks on Marlin Gipson's arm left by a K-9.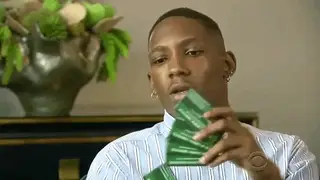 A video of a Texas deputy questioning a Black student who was going door to door to promote his lawn mowing business has many people accusing the officer of racial profiling.
Deputy Shane Cates of the Harris County Constable Precinct 1 approached 20-year-old Marlin Gipson on July 18. Gipson was handing out business cards for his lawn mowing service when Cates came over to investigate his actions.
In the video, Cates questions Gipson about why he was going to different houses and Gipson explains that he cuts grass and even showed the officer one of his business cards. Cates then asks Gipson for ID, and when he does not produce identification, Cates writes down his name and birthdate.  
Gipson, frustrated as to why he was being questioned by an officer, then asked for business card from the officer.
"Could I have a card, please, sir, to write your name down for me?" Gipson asked.
In response, Cates pulls out handcuffs from his belt and says, "I'll tell you what. Turn around and put your hands behind your back." 
Later on, the clip shows Gipson, who is a business student at Blinn College, in his home with the officer outside.
According to Houston Press, the officer then came inside, broke down the bathroom door where Gipson was hiding, released a police dog on him, used a Taser on him twice and arrested him. He has been charged with failing to identify to a police officer and evading arrest.
Gipson's brother, 22-year-old Marcus Gipson, and friend, 21-year-old Devontae Williams, were also arrested by officers.
Constable Alan Rosen held a press conference late Wednesday afternoon to address the concerns about the video, reported Houston Press.
Although the video has many people outraged, Rosen said, "I don't believe our officers have done one thing wrong at all."
"What I have seen thus far [from Gipson] is falsities. Untruths. He has not been truthful about anything," Rosen said. "And I can tell you, I have a dedicated workforce here. I stress the importance of the office looking like the community we serve. We have one of the most diverse offices there is in Harris County, and I'm proud of that, and it really incenses me to have somebody say that they were targeted because of their race."
Rosen said the deputy was originally suspicious of Gipson's activity because there had been a rise in burglaries in the neighborhood. He also added that Gipson had an outstanding warrant for hist arrest and he lied about his age. 
The constable said the deputy had every right to ask for Gipson's ID because he was investigating him and that it was fine for the deputy to refuse to give him his own name because "we don't let a violator dictate the rules of how [the stop] goes. That's how an officer can get hurt."
Gipson's attorney, Lee Merritt, has accused the officers of racial profiling and using excessive force and abuse of power, saying he is preparing a civil rights lawsuit.
"After the unconstitutional and excessive arrest of a black college student while he was mowing lawns to make extra money over the summer, how do we expect law enforcement to respond to national outcry?" Merritt asked in a post on Facebook. "Character assassination of course," he said, referring to comments Rosen made about Gipson at the press conference.
Gipson's family has filed an internal affairs division complaint with the constable's office. Rosen said that if his family doesn't feel that his office investigated the complaint without bias, the Texas Rangers will take over the investigation.