Prayers Up! Shaq's Son Shareef O'Neal Will Undergo Heart Surgery And Miss Entire UCLA Season
During a checkup, doctors found a heart ailment in the four-star recruit.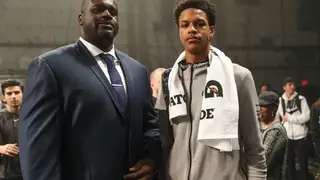 Shareef O'Neal, the star UCLA recruit and son of Shaquille O'Neal, is required to undergo heart surgery for an ailment, forcing him to miss the entire 2018-19 season.
According to TMZ Sports, Shareef said he "felt funny" while participating in team workouts over the summer. As a precaution, UCLA's doctors gave him a heart monitor to wear, giving him the ability to alert them with the push of a button. During one summer practice, he pushed the button and when doctors performed an evaluation, they discovered the heart ailment.
"So, the other day during routine checkup, we found a medical issue dealing with my heart," O'Neal said in the video. "And thank God UCLA medical staff found it early, but causing this I will not be playing this season and I will be a medical redshirt. But during this time off, I'll be off for a while, I'll be focusing on academics, my health, of course, and I'll just be observing to be the best player I can be next year."
UCLA released a statement of support for Shareef and his family.
"Freshman Shareef O'Neal will be sidelined for the 2018-19 season (medical)," the school said in a statement. "He will remain enrolled in class and on the men's basketball team during this redshirt year. The UCLA men's basketball program completely supports Shareef and his family as he gets this issue resolved."
In the TMZ Sports video, Shareef emphasized he will return to the team.
"I know it's an injury that requires surgery, so I'll be having heart surgery and I'll be out a couple months and after that I'll be back," he said in the video. "A lot of people are asking if it's career-ending. The answer is absolutely not. Just a little bump in the road. ... During my rehab, I'll be attending my classes and being a normal student. But that's what's going on, and I'd like to thank UCLA, my family, my teammates and everyone who supports me in this decision."
He also opened up about how this situation has emotionally affected hi.
"I'm a little down," he said. "I feel like I was at my peak of basketball going into my freshman year and coming out of the state championship of high school. I felt like I was at the top of my game right now. Just trying to get better, getting stronger but then this happened. I'm just doing my best to focus on my health right now. "