'The Wire' Creator Uses the N-Word on Twitter and Explains Why It's OK
Are you buying it?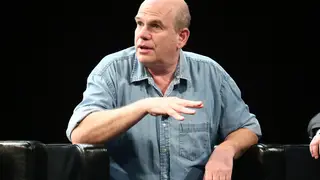 Another white man in Hollywood is being slammed for using the N-word.
The Wire creator David Simon penned a tweet weighing in on the upcoming Donald Trump town hall set to be hosted by Sean Hannity this coming Wednesday. When addressing how the Republican presidential nominee will address issues affecting the African-American community, he saw it fitting to use the term.
"Hannity my n***a!," he wrote. "If they couldn't get Ta-Nehisi or Deray to host, then who but you on the pulse of black America?"
While his intention seemed to mock the host hired for the event, Twitter users didn't see it as humorous, blasting him for his choice of words. Simon even went back to Twitter and attempted to explain why it was OK for him to use the word.
See how President Obama got called the N-word to his face in the BET Breaks video above.
BET.com is your No. 1 source for Black celebrity news, photos, exclusive videos and all the latest in the world of hip hop and R&B music.