'Walking Dead' Actor Moses J. Moseley Dies At 31
He also appeared in BET's 'American Soul.'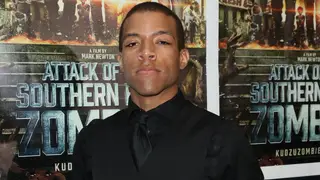 Moses J. Moseley, who is most known for playing a zombie in The Walking Dead, has died at 31.
According to  TMZ, Moseley was found dead in Stockbridge, Georgia, on January 26. His manner of death is currently under investigation.
His manager said in a statement to PEOPLE on Monday (Jan. 31), "He was loved by everyone who met him. Such a bright light in everyone's eyes.  Moses was an amazing person and if you had the opportunity to meet him he would have made your day amazing. He was very talented, he was a great friend, the kind you could call for anything. He was always excited about life and working in the entertainment business."
In The Walking Dead, Moseley played Mike, one of Michonne's (portrayed by Danai Gurira) pet zombies. Moseley also had roles in 2012's Joyful Noise,  2013's The Hunger Games: Catching Fire and American Soul, which aired on BET in 2019 and told the story of the legendary music program Soul Train.