ESSAY: Alonzo Mourning's Life Saving Kidney Transplant Gave Me the Blueprint That Ultimately Saved My Life
Writer Kevin L. Clark compares notes with Mourning on surviving a rare kidney disorder and what the NBA legend is doing to help others.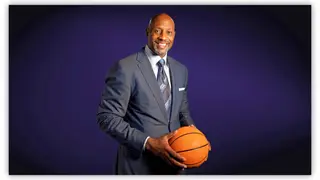 At the onset of 2011, I was 29 years-old and loving everything about living in Brooklyn, New York City. I was blessed to be in a profession I've wanted to work in since a pre-teen; I existed in the only place I had ever wanted to live, and every day, I felt like I was waking up to receive a gold medal.
I had built up a healthy résumé by that time: HipHopDX, XXL, Complex, and was looking forward to then-future challenges taking on assignments at outlets like Black Enterprise and ESSENCE magazines. Unbeknownst to myself, my body was about to put me through a transition unlike any soon-to-be 30-year-old should ever face. My back would ache terribly, it felt like food would pass through me, and my ankles and legs would often swell, leaving indentations whenever I pressed down into them.
A year later, a kidney biopsy at Mt. Sinai Hospital alerted me to a diagnosis of a rare kidney disorder with a very long name that translated to "huge medical debt." Focal segmental glomerulosclerosis, or FSGS is when the kidney fails to properly filter your blood. The condition is so rare that most physicians have never heard of it, let alone are able to diagnose or know how to treat it. Hell, even my own mother, who went through a similar kidney journey as I did, didn't share any information with me before my discovery.
That same year, my kidney began to fail. I needed emergency surgery to save my life and then was placed on peritoneal dialysis to follow. Peritoneal dialysis, which like FSGS, is also rarely discussed. Using a catheter, I had to connect myself to a machine every night for nine-hour intervals to remove the uric acid and urea from my body. At first, I figured that since the list to receive a new kidney typically favored those who are younger, I wouldn't be down for long. I thought maybe a year or two before I got my second chance at life. Instead, I was on peritoneal dialysis for the next six years.
When You Dare To Hope
My chances of gaining a new kidney were slim. Most of my family were either already immunocompromised (having had some other health issue like diabetes or hypertension which disqualified them), too old, or just plain reluctant to participate in the vetting process. My then-wife attempted to go through the invasive process of determining if she could donate, but we were shocked to learn that she was born with only one kidney.
With each passing year, the stakes grew riskier as my health became more complicated, and while I was thankful to be on a donor's waitlist, I didn't have anyone who actually knew what I was going through.
That was until I learned about the health journey of seven-time NBA All Star, Hall-of-Famer and Olympic gold medalist Alonzo Mourning. This brother had everything going for him when his world came crashing down in 2000 when he was diagnosed with FSGS. The news of his illness shook the basketball world, much like the news of Earvin "Magic" Johnson's HIV diagnosis. But like the Lakers hero, Mourning came back in 2004 after undergoing a successful kidney transplant the year before and later in 2006, with a team-high five blocks, helping to bring South Beach its first NBA championship.
"[My return] provided hope to people who were on dialysis, who are waiting for a transplant, or who are dealing with a major health obstacle," Mourning told me in an interview via Zoom. "I think by me being proactive after surgery, it also encouraged others to become donors. This partnership with Vertex Pharmaceuticals, a company that truly understands the importance of educating the community about kidney disease, is a match made in heaven."
FSGS is a collection of diseases that can scar the glomerulus—the filtering portion of the kidney—and can be caused by obesity, various medications, drugs, and genetics. And while Mourning is arguably one of the most well-known patients with FSGS, he's not the only one to have experienced it. Other notable people including Olympian Aries Merritt, bodybuilder Flex Wheeler, and saxophonist Dayna Stephens, all who have experienced this life-threatening setback with a grace and strength that still inspires me today.
Get Ready To Ask the Hard Questions
Speaking with Mourning about our respective journeys also sparked conversation about working with Vertex on their Power Forward campaign.
"I was fortunate [to receive a kidney from] Jason. He was a marine. He was in good shape and knowing that helped when it came time to search for a donor," shared the former Miami Heat forward/center who had his transplant surgery 19 years ago thanks in part to his second cousin, Jason Cooper.  
"My health is good. I lead a very healthy and active lifestyle. I exercise about four or five times a week. I take my medications on time, and I see my doctor on the regular."
According to HHS.gov, the number of organ transplants performed on Black Americans in 2020 was 27.7%, while a whopping 28.5% percent waiting for transplants are Black Americans, comprising 12.9% of organ donors in need. This is important to note because, for FSGS patients—there is no cure.
"I want [Black people] to ask the hard questions of the doctors or specialists," Mourning shared. "I want them to get tested for ESRD [End-stage renal disease] and learn about the APOL1 risk variant."
The APOL1 gene has evolved into a "genetic variant," according to the Power Forward website, which further explains that people of Western and Central African ancestry may carry these variants and face an increased risk of kidney disease. 
"When you're in that category, which makes up millions of individuals, you [become a candidate] because of the color of your skin," said Mourning. "By asking the right questions [to your healthcare provider], you can detect any deteriorating signs of worsening kidney function."
In a 2022 chat with Forbes, Dr. Matthew Sparks, delved into the ESRD, saying, "FSGS is more common in Black patients, [found as a] homozygous mutation [seen] in 15% of patients in the U.S. who self-identify as Black." Patients of color are 1.5 to nearly 4 times more likely than whites to require dialysis due to a kidney related health issue. And through Power Forward, Mourning wants to lessen these harrowing rates by challenging us all to have open conversations with our families, physicians, and organizations so we can all be better off.
Mourning also shared his hopes that the NBA, which primarily focuses on community engagement and charity work, will eventually open itself up to a future partnership with Power Forward and Vertex to lead discussions about the APOL1 variant.

"I want representatives from the NBA to read this because the more we are able to get the word out via [our resources] and this Power Forward initiative, the more we can educate people and the better off our country will be," he said. "When you think about the NBA [as having] predominantly Black players, all of which are candidates for kidney disease and this particular variant, [being able] to address these statistics will help us get out in front of it."
Find Your Own Way To Stay
This year will mark my fifth "kidneyversary" after receiving a new kidney on Jan. 31, 2018. I was blessed when my friend and (transplanted) blood brother, Anslem Samuel Rocque, provided the living donation. Mourning's story got me through those first few years while I worried and waited on that transplant list. A venerable iron man in the world of hoops, Mourning delivered a never quit mentality and tenacious drive that became a blueprint for other survivors. It's the plan I followed that got me through when I had to work on breaking news while waiting in an emergency room or pushing to turn in my articles when sitting through peritoneal dialysis.
Now retired from the game that he so clearly adores, the NBA legend works as vice president of player programs and development for the Miami Heat. As the founder of The Mourning Family Foundation, he continues to find ways to support his community. The most recent example is in dropping this one, particular piece of advice to me about what keeps him going.
"If I stop moving, I'm going to start dying, and I'm not ready to do that."
---
Kevin L. Clark is a contributing writer for BET.com, who covers the intersection of music, film, pop culture, and social justice. Follow him on @KevitoClark. For more on information on kidney disease including a discussion guide, check out powerforwardtogether.com