Storm Reid Would Travel Back To This Time Period If She Could
The actress discusses making her time travel film with David Oyelowo, "Don't Let Go."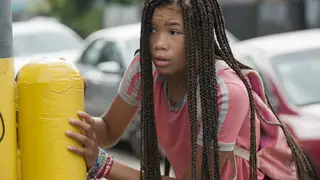 Storm Reid is a living testament to the idea that dreams can come true, and this talented 16-year-old is living out hers in a big way. Not too many teens have bragging rights that include life-altering opportunities to work with the biggest and the best in the entertainment world, but Reid has accomplished just that in a relatively short period of time.
In 2017, her moon orbited two mega talents that the world is in constant buzz about for obvious reasons — media mogul Oprah Winfrey and power producer Ava DuVernay, both of whom were a part of A Wrinkle in Time. Reid reunited once again with DuVernay this year for a project that has garnered seemingly endless accolades and acclaim, the Netflix original series When They See Us. Reid, who has stated that she knew she wanted to be an actress from the tender age of three, continues to shine and secure her place in the hearts of fans with projects like HBO's Euphoria (in which Reid stars opposite fellow teen sensation and friend Zendaya as her loving younger sister).
For her latest film, Don't Let Go, Reid sharpens her acting skills in the role of Ashley, a young girl whose uncle (played by David Oyelowo) traverses time to save her life. 
We spoke with Storm Reid about her role in Don't Let Go, which also stars Mykelti Williamson and Brian Tyree Henry (Atlanta), and the phenomenal trajectory of her blossoming acting career.
BET: What was the most interesting or challenging aspect of playing your character, Ashley, in Don't Let Go?
Storm Reid: It was amazing! I think the most challenging thing for me was just trying to wrap my head around the time travel aspect or the time split, I might say. But even though it was a little challenging, I'm glad I got the opportunity to work on Wrinkle, where we dealt with the same things even though the two projects were totally different. And I loved the emotional aspect and the groundedness of Don't Let Go. Even though there were times when I felt a little confused or I was challenged, I'm glad that it all came together and we made something special.
For this film you got to work with not one but three prominent names in Hollywood and well-respected Black actors David, Brian and Mykelti. What was that experience like?
Reid: It was amazing to work with all three of them and just on the project as a whole. So, I'm excited for people to see what we made and the connection that we have in the movie. 
In this movie the lines between past and present are blurred. If you could actually travel through time and alter one thing, what would that be and why?
Reid: That's a tricky one, because a part of me is a firm believer in what is meant to be will be and everything happens for a reason, so I don't know if I would want to change anything, because that might be causing more problems in a situation. But if I had an opportunity to go back and change something in the world, I feel like I would maybe go back to the civil rights movement as the same person with the same knowledge as Storm as a 16-year-old and see why people operated in the way that they did, and see if I could help in any way. Even though it was a terrible time for people who look like us, I would still want to go back and see what I could do. 
In Don't Let Go you actually film a scene that depicts your character's death. Was that weird for you at all? 
No. I am a firm believer in everything happens for a reason and is meant to be, so I really think it made me think about that in a way, But [that scene] did kind of make me feel uncomfortable because of course you don't want to think about those things and you don't want to have to think about how [your] family would feel. There's just a whole bunch of emotions that I was going through, but it didn't really deter me from wanting to do the scene because it is acting, and as of right now that's not my reality and that's not my family and friends' reality, so I just have to look at it in that way. 
When you think about your life, say 10 years from now, where do you see yourself? What does Storm Reid's life look like?
If I can say anything, I would love to still be in the entertainment industry creating opportunities for people who look like me and just creating narratives that reflect the world and all people, as an actress, as a producer and, hopefully, as a director down the line. Just really focus on that, and my philanthropy and try to just make the world a better, safer, just place. So, we'll see.
You've had the coveted opportunity to work with two of the most successful and revered Black women in television and film, Ava DuVernay and Oprah Winfrey. Does that all feel like a dream when you think about it?
It's such a blessing having been able to work with them, and hopefully we will work together in the future, but also to just be able to have them in my corner and have them pour into me and just give me all of the advice that they have and really guide me home is amazing. I'm really proud of those connections that we have made, and I'm super grateful to have such pioneers in my life who are women who look like me, my mom and my aunt, so I'm proud of that. 
Many of us wish we had an opportunity to meet Oprah Winfrey and soak up her words of wisdom one-on-one. While working with her on A Wrinkle in Time, did she offer you any sage advice or thoughts to ponder?
Reid: She told me don't waste energy on things I can't change in life when I could be using that energy on something else positive in my life. So that has been my mantra and has stuck with me ever since that day. 
As if working with Oprah weren't amazing enough, you had the opportunity to reconnect with a magical and super-talented filmmaker, Ava DuVernay, on When They See Us. How does it feel being a part of such a widely acclaimed and impactful project and the retelling of such a powerful story?
Reid: It was a blessing to work with Ms. Ava again and tell these men's stories, and I feel like I was a part of history in a way. Not saying that we gave those five men back their time that they lost, or the connections that they lost, but I feel like we gave them a piece of justice back. And to really see how people have embraced them is amazing because I feel like the media and the criminal justice system and the world basically just neglected and dehumanized them. But Ava really made sure that they were shown in the right light and not just focusing on the criminal justice part of it, but how they were as young boys and how they operated with their families, how they just maneuvered through the world. I'm really grateful to be a part of that, and it's something that I'll never forget.
One of your biggest fans and supporters is your boyfriend, Sayeed Shahidi, who is the younger brother of Grownish and Blackish star Yara Shahidi. Do you have a group of friends — your Euphoria co-star Zendaya — who you can talk with about the trials and triumphs of being a teenager in the ever-demanding entertainment industry and how to balance that all out with just trying to live your teenage lives?
Yes, absolutely. Both Yara and Z have become my big sisses and my homies, and I'm able to reach out to them on a personal level just to either hang out and go to lunch or talk about anything I need advice-wise with my career, so I'm glad to have them. And then I do have a group of friends where they don't act at all, and they're just, again, proud of me and they want to see me shine and they've been there since day one. I'm grateful for everybody in my corner who is genuine, whether they're in the industry or not. 
If life were to imitate art, who would be that person who you would call to come and save you in real life the way David Oyelowo, who plays your uncle and a detective in the film, does and why?
Reid: My mom and my [older] sister, because they're always there for me when I need something and they would drop everything that they're doing if they were doing something to come and save me, or figure out a way for me to be safe. Those are my two best friends, and I would do the same for them. 
Don't Let Go is in theaters this Friday August 30.