T.I. Has Some Choice Words After the Criticism of His Tupac-Inspired Outfit
You really did have to be there.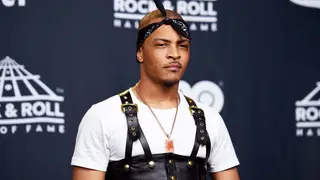 2017 truly has become Tupac's posthumous golden year as his first-ever biopic is preparing for a June 16 landing, the hip-hop icon's birthday, and his official induction into the Rock and Roll Hall of Fame occurred on Friday (April 7).
But even after T.I.'s exceptional tribute performance, complemented by a classic Tupac outfit that admittedly didn't stand a chance among the undefeated internet, he's here to remind everyone of what real honor to a rap legend looks like. 
The ensemble consisted of a leather corset-styled vest with suspenders over top a white T-shirt and a black bandanna tied around his head, a signature 'Pac look from the '90s.
"Guess you just had to be there," he starts off in his caption beneath his photo beside the actual Tupac ensemble that he channeled for the performance. "Y'all young, forever commentating, over-opinionated [motherf**kers] got s**t to say always! When the Biggie s**t went left because a [motherf**ker] from [y'all generation] forgot the words, y'all had a [f**king] fit!"
"Now some real [n****s with] real love in [their] hearts get up and dedicate themselves to honor the legacy of a true American hip-hop, rock and roll legend, that would make him and his family proud," the King of the South continued. "It's some negative s**t to be said about that as well."
Taking his hat off to the tribute's other stars, Alicia Keys, Treach, YG and one of Pac's closest West Coast rap companion's Snoop Dogg, Tip slammed down the new school critics and patted himself on the back anyway. Of the night's stellar stage events, Tip performed his rendition of Pac's venerated anthem of hope "Keep Ya Head Up" while Alicia held down the piano with a compilation of classics from Pac like "I Ain't Mad At Cha" and "Ambitionz as a Ridah." YG and Snoop also joined duo forces for "2 of Amerikaz Most Wanted," a single that Snoop was originally included on for Pac's All Eyez on Me.  
"A real G was inducted into the Rock and Roll Hall of Fame, and everybody who was alive during this era was satisfied," Tip concluded. "And that's all that matters! This is our era. We determine what's what [with] this s**t here! So f**k whoever don't like it! We reject your deposit!"
Words spoken from a true old-school OG.
Read his response to the critics in the post below.