That One Time Prince Attempted To Run Michael Jackson Over With A Car...
The exchange was a landmark in their uneasy rivalry.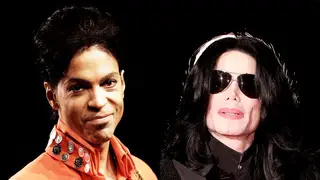 The rivalry between Prince and Michael Jackson has long been a poignant aspect of their legacies even after their deaths. 
And if you ask Quincy Jones, the tension between the iconic musicians was far more lethal first hand.
During a recent sit down with GQ, the luminary producer left no stone unturned as he dished on industry stories worth more than gold. Taking readers on a trip down memory lane, Quincy recalls a landmark exchange between Mike and Prince when they both attended a James Brown show in Los Angeles. During the course of the evening, Brown invited MJ on stage to which he wowed the crowd with a few spins and a moonwalk. After a bit of a delay, Prince then got onstage to jam out on his guitar and strip off his shirt. As legend would have it, and the footage from that night would prove, the superstar face-off was triumphant for Michael Jackson and a rare humiliation for Prince.
But, what most aren't familiar with is what occurred after the fanfare. According to Quincy, Prince waited for MJ in his limousine with every intention of trying to run him over. When asked how MJ knew this was Prince's intent, Quincy said matter-of-factly: "He knew. Michael knows s**t. He was there. He said that was his intention." 
"It was just very obvious what the hell happened — [Prince] made a damn fool out of himself," he continued. "Michael went up there, in 40 seconds, sang 'I love you, I love you.' Then they went up-tempo and he did a little dance and did the moonwalk and whispered in [James Brown's] ear, 'Call Prince up — I dare him to follow me.'"
The music exec goes on further to allude that their rivalry only escalated from there, especially after he suggested that the two work on a duet for the title track of Bad. "So we invited [Prince] over to Michael's house at Hayvenhurst. He came in and he had an overcoat on, and he had a big white box labeled 'Camille.' He called Michael 'Camille,'" Quincy recalled.
"The box had all kinds of stuff — some cuff links with Tootsie Rolls on them. Michael was scared to death — he thought there was some voodoo in there. I wanted to take it, because I knew Michael was gonna throw it away."