Thirsty Woman Rejected by Michael Che Lashes Out After He Put Her on Blast
Leah McSweeney says she has an explanation.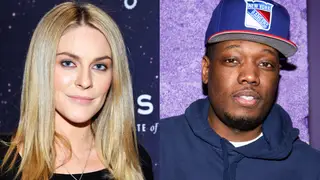 Michael Che put Married to the Mob founder Leah McSweeney on blast recently after she accused him of being a douche to her during a text message conversation.
After the comedian posted screen shots of their exchange, showing he was not being disrespectful, but was just uninterested, McSweeney wasn't too happy, and said that she is just a "petty b***h who doesn't like getting rejected."
During Tuesday's episode of her podcast, Improper Etiquette, McSweeney explained her piece.
"You guys got to see my petty side. You got to see me being spiteful and angry 'cause I got rejected," she said. "It got put out there 'cause I called the guy out. I called him a disrespectful woman hater without thinking too much about it, not thinking it would cause too much of a ruckus."
She went on to say that Che made her "look totally crazy" when he posted screen shots of their text messages.
"It got played out in the news, he released all the text messages, which made me look totally crazy," she said. "Hey! I am crazy, guys! And he realized he didn't want to deal with the crazy. It's cool. He's allowed to not wanna deal with my crazy."
This all started when McSweeney slammed the SNL comedian on last week's episode of her podcast, accusing him of hating women.
"Why are you on a dating app if you hate women? Literally, you've never met me and you're texting me like I'm a stupid b***h... texting me and being mad rude," she said, racalling their iMessage conversation. "He kept just texting me, going, 'I'm fat. Does that turn you on?' And I'm like, 'You're fat? I think I've seen you and you're not fat, OK.'"
The text messages Che released explained a completely different story, showing that McSweeney made a few adjustments to the story.
Speaking of awkward ends to relationships, get the scoop on the demise of Nicki Minaj and Meek Mill with Wendy Williams, above.