All Falls Down: Kanye Goes On Pro-Trump Rant On 'SNL' And Twitter Destroys Him
Fix it, Jesus.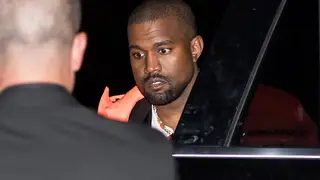 Remember when Kanye West apologized for wearing the MAGA hat and saying slavery was a choice? Well, those days are over. The rapper, who admits he doesn't read or vote, went on  an insane pro-Trump rant last night at SNL that even had Chris Rock say, "My God."

During the show, Yeezy performed "I Love It" and "K.T.S.E." and during the show's famous closing credits he grabbed the mic to perform "Ghost Town." At this point, he was already wearing his Make America Great Again hat and then he begin to go into a rant about the sunken place, racism, Democrats  and his worship of Trump.
He babbled,  "So many times I talk to a white person and [they] say, 'How could you like Trump, he's racist?' Well, if I was concerned about racism I would have moved out of America a long time ago."
He then claimed Democrats took "fathers out the home and promote welfare." He continued, "You wanna see the sunken place? Okay, Im'a listen to y'all now. I'ma put my superman cape on, because this means you can't tell me what to do… You want the world to move forward? Try love." He also said we need a" dialogue, not a diatribe." Even though he was the one on a diatribe.
The legendary comedian Chris Rock was filming the rant and can be heard saying, "My God." 
Watch below:
Obviously, Twitter was not happy. See the greatest hits of Kanye being shut down, even  by celebrities.