Hip Hop Awards 2022: Drake Demands the Attention with These Banging Guest Features
The Canadian emcee's lyrical ability earned him the "Sweet 16: Best Featured Verse" award at this year's ceremony.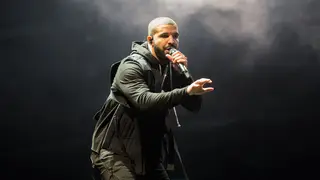 For aspiring musical artists looking to make it to the main stage, know the great benefits of getting a suitable guest feature. Artists like Bleu and r&b crooner Giveon have all experienced the Drake effect after collaborating with the Canadian rap star.
At the 2022 BET Hip Hop Awards, the "Way 2 Sexy" emcee took home the "Sweet 16: Best Featured Verse" for his contribution to Jack Harlow's  Boi-1da-produced "Churchill Downs," from his second studio album Come Home the Kids Miss You. As we look back at yet another amazing ceremony celebrating hip-hop music and hip-hop culture, check out these classic guest bars from award-winner Drake.
Jack Harlow Feat. Drake — "Churchill Downs"

Dubbed The Embassy, Drake's 50,000 square feet Toronto manor has several amenities, including an NBA regulation-size indoor basketball court crowned by a 21-square-foot pyramidal skylight.

STANDOUT LINE: I got my realtor out here playin' Monopoly / How can I address you when you don't own property? / They only finesse you when you don't move properly

Future Featuring Drake & Tems — "Wait for U"

Drake raps about misinterpreting his lover's signs and being ignored, comparing himself to a lonely dog in a kennel.

STANDOUT LINE: Supposed to be your dog, but you done put me in a kennel Girl, put a muzzle on it, all that barkin' over dinner

Blue — "Mines Still (Remix)"

The emcee falls victim to betrayal in his guest verse on the remix to "Mine Still."

STANDOUT LINE: Ashamed to tell my friends how much I'd do for you / 'Cause they know that you would never do the same for me