We Won't Let 'TIME' Erase Tarana Burke From The Movement She Started
The creator of #MeToo deserves to be front-and-center on the magazine's 'Person Of the Year' cover.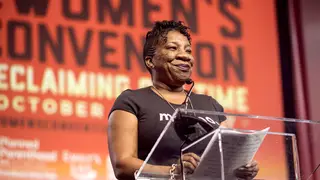 Yesterday, TIME Magazine unveiled their Person of the Year, of which, the #MeToo movement received the top honor. According to TIME, the #MeToo movement "unleashed one of the highest-velocity shifts in our culture since the 1960s." They dubbed the people behind the movement "The Silence Breakers" and on the cover featured Ashley Judd, Susan Fowler, Adama Iwu, Taylor Swift and Isabel Pascual. It was one of the better days on the Internet as many women rejoiced, feeling that they've finally been seen and had their pain heard.
Get more on TIME's "Silence Breakers" Person of the Year feature with BET Breaks, above.
However, like hundreds of Black women on social media, I was incredibly disappointed to see that Tarana Burke — the founder of the #MeToo movement — was left off of the cover.
Let's be clear, the outrage over Tarana's absence on the cover isn't about who gets credit for a hashtag — it's about the marginalization of Black women in movements that we've started. We have long lived in a society that rushes to heap praise and credit on white women for the accomplishments of others (see also: Kim Kardashian's "trendy boxer braids"), but since #MeToo is all about giving voice to the previously silenced, let's do it right this time. 
Many have pointed out that Tarana is in fact included in the accompanying article and she's given her credit as the person who coined the phrase "Me Too" ten years ago. But she's buried 2000 words deep — the literal definition of marginalization — and much of her section is dedicated to praising Alyssa Milano (who, upon reading it in black and white,  clearly appropriated Tarana's phrase and put it on social media) for lighting the match that sparked the movement:

This was the great unleashing that turned the #MeToo hashtag into a rallying cry. The phrase was first used more than a decade ago by social activist Tarana Burke as part of her work building solidarity among young survivors of harassment and assault. A friend of the actor Alyssa Milano sent her a screenshot of the phrase, and Milano, almost on a whim, tweeted it out on Oct. 15. "If you've been sexually harassed or assaulted write 'me too' as a reply to this tweet," she wrote, and then went to sleep. She woke up the next day to find that more than 30,000 people had used #MeToo. Milano burst into tears.
At first, those speaking out were mostly from the worlds of media and entertainment, but the hashtag quickly spread. "We have to keep our focus on people of different class and race and gender," says Burke, who has developed a friendship with Milano via text messages.
It took journalist Britni Danielle, who (as far as I can tell) first tweeted about Tarana's formative role in #MeToo, followed by a chorus of Black women demanding that she be recognized, for Milano to properly credit her inspiration:
Since then, the two women have appeared on television together and Milano has been careful to include Tarana in any tweets or statements in which she accepts credit for the phenomenon. However, as many have pointed out, #MeToo is a phenomenon that's long overdue — and if folks took the pain of women of color more seriously, it might have come about much sooner.
For years, Tarana was in the trenches working directly with young survivors of sexual harassment. She listened to the story of a young woman burdened with the memory of her assault and dedicated her life to making sure that Black and disenfranchised women were a part of the conversation. Me Too started as a response to anti-Black and racial discrimination as well as sexual harassment and violence. The current movement has all but erased the former.
As a society, we've grown accustomed to handing out awards and titles to white people who do the bare minimum. To people who are just now in the fold, who are just now "woke." While many, many Black activists are working in the shadows day after day and might never receive that glory. This was Tarana's moment. She's a very gracious woman and hasn't so much as uttered any displeasure about the cover. And probably won't. But I cannot sit silently why this Black woman has to stand in the shadows of her own creation so that others can take the credit.
Gabrielle Union said something really thoughtful during the press tour of her memoir about the #MeToo movement, "If those people hadn't been Hollywood royalty, if they hadn't been approachable. If they hadn't been people who have had access to parts and roles and true inclusion in Hollywood, would we have believed?" From the onset, Black women and women of color have been feeling the lack of inclusion within the campaign. We had to fight to get Tarana included when the #MeToo hashtag first went viral. We were told to shrink ourselves for the greater good of the campaign. Black women have always had to bargain when it came to having our voices heard and our pain felt. Indeed, there are double the number of white women profiled in TIME's cover story as all women of color combined (22 white women got to tell their stories, compared to 11 Black, Latinx, Asian and other races and ethnicities).  
Would Black actresses have been believed if they came out in droves in the same fashion? History tells us, definitively not. Even more the reason to have someone like Tarana Burke on the cover. Not only is she a survivor herself, but for the people who aren't white or famous, she is in the community listening.