The National Museum of African American History and Culture Partnered With Google to Combine Tech With Black Storytelling
Here's what you can expect to find at the NMAAHC.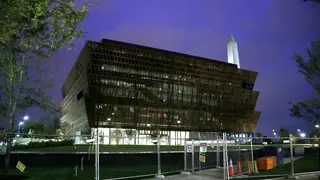 Today, the Smithsonian National Museum of African American History and Culture announced it has partnered with Google to create a 3D interactive exhibit. 
Not only will the museum bring you the best pieces from African-American History, but it will also use nuanced technology to display more artifacts and information.
The NMAAHC partnered with Google in order to pioneer a collaboration between cultural history and tech. For the last few months, Travis McPhail (pictured below) has been working to create the 3D interactive exhibit for the NMAAHC. Travis McPhail, PhD., is a Senior Software Engineer and Tech Lead at Google who works on Google Maps. He is leading this new project as part of the Black Google Network. Travis hopes this project will not only be a way for people who visit the museum to see more artifacts then ever before, but he also hopes this will be a moment for young Black minds to be inspired.
"[The museum] is telling stories of my grandparents, my parents and my story," said Travis. "This we believe is the first of its kind to use this type of technology. I hope when it's said and done, someone that looks like me can see what the members of the Black Google Network accomplished and say 'I guess I can do that too.'"
NMAAHC will focus on the history of Black America on one of the largest scales this country has ever seen. The Smithsonian understands that African-American history and American history are two unique sides of the same coin.
The museum will include carefully curated stories and artifacts from many of the most influential Black figures our nation has witnessed, including athlete Carl Lewis, musical prodigyThomas "Blind Tom" Wiggins and "Little Rock Nine" student Carlotta Walls.
You'll be amazed when you see some of the incredible artifacts and displays. Walk up and examine first hand freedom papers given to emancipated slaves. Check out old school #blackgirlmagic with authentic memorabilia from National Association of Colored Women's Clubs. And don't forget your cell, as you can use it for a mobile tour.
The National Museum of African American History and Culture is sure to be an innovative and new cultural experience, which is why the Smithsonian needs help from donors like you.
Here's where you can give today to help celebrate and support the museum as a Giving Day Champion.