Update: Alton Sterling Shooting Has Gone All the Way to the U.S. Justice Department
The case is now a federal investigation.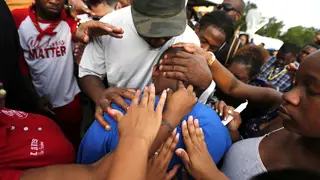 Demanding justice.
The investigation into the fatal shooting of Alton Sterling in Baton Rouge, Louisiana, has gone all the way to the federal level. The U.S. Department of Justice has opened its own query into the 37-year-old's death at the hands of two cops in front of a convenience store. According to reports, Sterling was selling CDs outside of the establishment at the time of his death and was shot multiple times in the chest and back. 
"Based on the footage of the video, I have very serious concerns," Louisiana Gov. John Bel Edwards said in a press conference announcing the decision. "The video is disturbing to say the least."
"The FBI's New Orleans Division, the Civil Rights Division and the U.S. Attorney's Office for the Middle District of Louisiana have opened a civil rights investigation into the death of Alton Sterling," the DOJ said in a statement. "The Justice Department will collect all available facts and evidence and conduct a fair, thorough and impartial investigation."
The two officers involved in the shooting were identified as Blane Salamoni and Howie Lake II, the Baton Rouge Police Department said in a press briefing Wednesday. Salamoni is a four-year veteran of the force and Lake is a three-year veteran. They were placed on paid administrative leave following the shooting.
Hopefully the investigation will lead to justice for Sterling's family and the community as a whole.