Mo'Nique Stars In New Horror Flick 'The Reading' Produced By Lee Daniels
The BET+ original movie begins streaming on Feb. 2.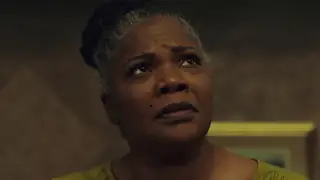 Mo'Nique is set to star in a new BET+ original movie The Reading, written and directed by Courtney Glaude with Lee Daniels, Mo'Nique and her husband Sidney Hicks serving as producers. This will mark more than 10 years since Mo'Nique and Daniels have collaborated on a project after their initial pairing in "Precious" which provided Mo'Nique with her first Academy Award nomination. 
On Wednesday (Jan. 18) the trailer for the horror movie shows  Sky (Chasity Sereal) as she travels to a staged reading at author Emma Leeden's home (Mo'Nique), years after Emma's family was killed in a home invasion. Sky, who often worries about past experiences with spirits, unwittingly summons evil forces into the home, threatening her, Emma and the rest of the group there.
"I LOVE US 4 REAL!," Mo'Nique captioned her Instagram post announcing the film.
The Reading also stars Denisha Hardeman, Ian Haywood, Charlene Brown, Lisa Alavi and Sara Alavi.
---
Editor's Note: A previous version of this article mistakenly referred to The Reading as a Lee Daniel film. He is the producer while Courtney Glaude is the film's creator.