Video Captures Moment White Man Pulls Gun On Unarmed Black FAMU Students Trying To Visit A Friend
Don Crandall was identified as a manager of a hotel.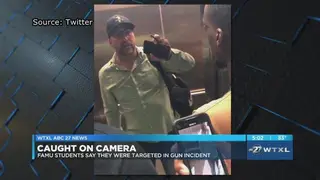 Police in Florida have opened an investigation into a disturbing video which shows a white man holding a gun while blocking several Black Florida A&M students from entering an apartment complex where their friend lives.
In the video, several students attempt to enter the Stadium Centre apartments where their friend had recently moved in. The man blocks the students from entering and insults them before walking into the elevator and blocking them once again.
At the elevator, the man can be heard telling the FAMU students they were not getting into the building unless they were residents with keys. During the incident, another white resident intervened to help the FAMU students enter the building.
"Chad stepped in to help us because the other white man was being racist by not letting us in," Isaiah Thomas, one of the four FAMU students, told the Famuan, as reported by the Tallahassee Democrat.
While the group was at the elevator, the man began waving a gun around that he held in his hand.
"Sir, you bring out your gun. What's your purpose for that?" asks one of the FAMU students.
"Oh, I'm sorry. Excuse me. Forgive me," the man says.
Officer Damon Miller, a spokesman for the Tallahassee Police Department, said the department was notified following the late afternoon Saturday incident.
Although the man's name hasn't been released by the Tallahassee Police Department, people on social media identified him as Don Crandall, a hotel manager with the Pat Hotel Group at the Baymont Inn & Suites by Wyndham Hotels, reported WTXL.
"We are aware of the exchange that took place and are troubled by it," said Kathryn Zambito, director of global communications for Wyndham Hotels & Resorts, Inc. "While we do not own or operate the hotel in question, nor do we employ the people who work there, we are looking into the situation with the hotel's owner."
The Tallahassee Community Action Committee, a local activist group, is calling for the person in the video to be fired and say the exchange and his display of a gun is racially motivated.
No arrest has been made at this time.