Grace Byers Cradles Her Growing Baby Bump And Opens Up About First-Time Pregnancy Experience: 'Deeply Grateful'
The actress is counting her blessings as she awaits the arrival of her first child with husband Trai Byers!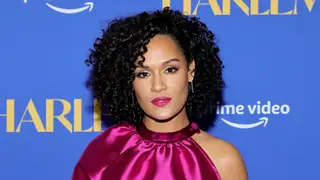 Grace Byers is counting her blessings! On Monday (Nov. 21), the pregnant actress took to Instagram to express her gratitude and appreciation for all those who've surrounded her with love and grace during her first pregnancy.
"Although becoming a mother requires great strength, I'm taken aback by the invitations of softness and delicacy that coax me as I take strides in this new season," she captioned a lovely photo of herself cradling her growing baby bump.
The soon-to-be mom went on to reflect on the support she's received during this peaceful time in her life.
She added, "The permission for rest and ease - even when things can feel overwhelming - still throws me sometimes. Most of all, I'm deeply grateful for all the ways in which love and tender support abound. The constant care-offerings and genuine investments are more than I would have accepted, simply because I'm always determined to do everything on my own."
She further explained, "To be easy. To be soft. To allow others - without request - to lift the weight, take the initiative, ask the questions, do the pouring and cover the things that I may need (or not even know that I needed) is something I'm still not used to and continue to get emotional over. At the moment, I'm sitting with the permission to lean. To tranquilize. To lull in the spaces that have made room. And this, somehow, awakens a different type of strength. Learning so much in this sacred time. Grateful for each soul helping to carry me. Love-dazed by this life growing inside of me. In awe of this new-found fortitude. Amen."