Michelle Obama at Bowie State: Be Examples of Excellence
In a commencement speech at Bowie State University, First Lady Michelle Obama urges African-Americans to make education a top priority.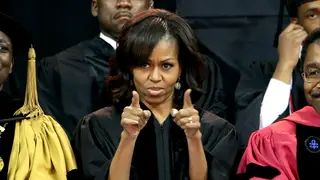 "Just think about this for a moment — for generations, in many parts of this country, it was illegal for black people to get an education," Obama told the crowd of several thousand who turned out to hear her speak Friday morning. "Slaves caught reading or writing could be beaten within an inch of their lives."
The first lady recalled the risks that more modern-day African-Americans have made to get a decent education, such as the Little Rock Nine, who for months faced abuse every day, and praised their hunger to learn and succeed.
Citing the school dropout rate among African-Americans and the low level of college enrollment, Obama lamented that today too many Black students "can't be bothered" and are not realistic about their options.
"Today, instead of walking miles every day to school, they're sitting on couches for hours playing video games, watching TV. Instead of being a teacher or a lawyer or a business leader, they're fantasizing about being a baller or a rapper," she said to applause.
She urged African-Americans to have the same hunger for education as those who, years ago, risked their safety and in some cases their lives to get one and to "reject the slander that says a Black child with a book is trying to act white."
"We need to start feeling that hunger again," she said. "We need to once again fight to educate ourselves and our children like our lives depend on it, because they do."
Obama also pointed out the benefits of a higher education, noting that people who have at least a bachelor's degree earn three times more income than high school dropouts. And, she added, education is also good for the health and African-American women and men with degrees live a respective six-and-a-half and ten years longer than those without.
Obama delivered the second of the three commencement speeches she will give this year at Comcast Center on the campus of the University in Maryland in College Park because the crowd was so large, marking the first time the historically Black university has held its graduation ceremony off campus.
BET National News - Keep up to date with breaking news stories from around the nation, including headlines from the hip hop and entertainment world. Click here to subscribe to our newsletter. 
(Photo: Chip Somodevilla/Getty Images)