Watch: A Passionate Michelle Obama Calls Trump's Comments About Women 'Intolerable'
The first lady cannot believe this is our Republican nominee.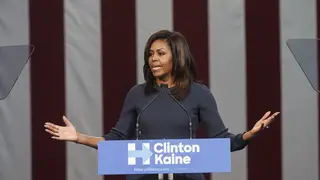 While campaigning for Hillary Clinton on Thursday, first lady Michelle Obama addressed the abhorrent comments about women made by Donald Trump. When discussing the comments the Republican candidate has made in the past, Michelle Obama gave her honest feelings on the subject.
"This is not normal. This is not politics as usual," Obama told the massive crowd of voters. "This is disgraceful, it is intolerable, and it doesn't matter what party you belong to," she added. "No woman deserves to be treated this way — none of us deserves this kind of abuse."
The first lady then took the time to address why these remarks about sexually assaulting women are so problematic.
"I can't believe that I'm saying that a candidate for president of the United States has bragged about sexually assaulting women," she added while her voice shook with raw emotion. "I can't stop thinking about this — it has shaken me to my core."
Michelle Obama's words may seem like just another political take down, but they are so much more than that. At one point during her address, Obama explains that whoever wins this election will have "the power to shape our children for the next four or eight years of their lives." And that is not just a true statement, but it is a warning.
We have to really understand that his comments cannot be summarized as generic, male, crude humor. He is not a character in a Judd Apatow movie. He is a presidential candidate in a very serious election.
To finish her remarks, the first lady thoughtfully explained that voting for Hillary is the only sure way to stop this man.
"If you vote for someone other than Hillary, or if you don't vote at all, then you are helping to elect her opponent," Obama said. "We need to recover from our shock and depression and do what women have always done in this country: We need you to roll up your sleeves, we need to get to work."