Offset's 'Jealousy' Video Has Cardi B And Taraji P. Henson Discussing His Alleged Affair
The new single and video dropped Friday (July 28).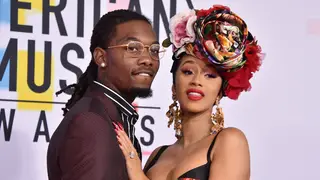 Offset's alleged affair caused a lot of headlines back in late 2018. However, almost five years later, the Migos artist and wife, Cardi B, are taking the narrative into their own hands.
The new video dropped on Friday, July 28, and the rappers tapped Taraji P. Henson to be a part of it.
In the video, the actress says that a woman once again claimed that Offset is cheating on his Grammy-winning wife.
"That stank h*e b***h," Henson says. "She's thirsty."
Cardi afterward replies: "Since he [cheated] before, whether he did it or not, people are going to believe it. That's why I want to bag this n***a-. Even though it's in the past, you should have never done it in the first place. That's why we're always in this m****rf*****g predicament."
Asking if Cardi will leave the Atlanta rapper, she says, "I love him but, b***h, I'm tired of his s**t." Offset then comes banging on his wife's door to discuss their issues.
Watch the "Jealousy" video below.